Falun Gong Practitioner Makes Speech at Plenary Session of the Fifty-Sixth Session of the Sub-Commission on the Promotion and Protection of Human Rights Held at the United Nations Office in Geneva (Photo)
(Clearwisdom.net) The fifty-sixth session of the Sub-Commission on the Promotion and Protection of Human Rights was held this year from 26 July to 13 August at the Palais des Nations, Geneva. On 6 August, a Falun Gong practitioner gave a speech at a plenary session on the subject of contemporary forms of slavery. Below is a transcript of the speech.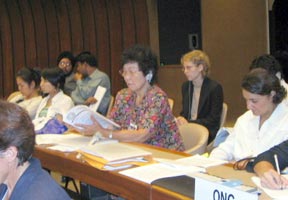 Plenary session
Item 6: Specific human rights issues:
(b) Contemporary forms of slavery
Mr Chairperson, Ladies and Gentlemen,
I speak on behalf of the Association of World Citizens and thank you for giving us the floor.
In February 2004, we, along with other international human rights organizations, the World Trade Organization, its member States and the foremost industrial countries, received a heart-rending and shocking letter written by Falun Gong practitioners who had survived the Chinese forced labour camps. They worked like slaves, under continuous torture and persecution, solely because they practise this method of Qigong and cultivate the human values of truth/authenticity, benevolence and tolerance.
They had been sent without trial into these camps through the total eradication campaign led by former President Jiang Zemin since July 1999 and they tell us what happens daily and why the products made in China are so inexpensive.
Working conditions are so inhumane that they may be defined as slavery:
From 13 to 20 working hours a day;
Food is insufficient and often prepared from rotten produce;
The prisoners work in crowded cells where they also eat, sleep and relieve themselves in a climate of extreme violence;
Hygiene is non-existent: e.g. 12 showers in the whole camp for 500 detainees, hence the development of parasites, scabies and infections. Certain products like baguettes [French bread sticks] that are used by Chinese restaurants and put in packaging marked "sterilized" are made in the worst hygienic conditions;
Sick people are not isolated from others, no matter how serious their illness or the risk of contagion. These may include, for example, those having contracted tuberculosis, hepatitis and venereal disease;
Prisoners who are wounded and bleeding or whose wounds suppurate as a result of torture inflicted on them are not treated and are pressured to fulfill their production quota. It is not unusual for certain products for export, such as jumpers, to be soiled with pus, blood and microbes.
Toxic materials are utilized without any protection for the detainees. Mrs. ZHAO Fengyun, a Falun Gong practitioner, died as a result of such treatment at Wanjia forced labour camp.
If their quotas are not fulfilled, the detainees are punished, tortured, or their time in detention is extended. Corruption is rife: the richest detainees bribe the warders to get easier working conditions and more food.
ZHANG Cuiying, famous Australian painter, who filed a complaint at Easter, 2004 with the various authorities of the United Nations against the responsible Chinese officials, spent eight months in a prison in Shenzen, because she practises Falun Gong: "I had to produce from 7 a.m. to 11 p.m. electric candles to be sold in Hong Kong. I was often beaten, electrocuted, sexually abused by the warders, locked in with criminals and the mentally ill. Millions of people undergo a similar fate in China."
CHEN Ying, a student in France, was arrested for the same reason when she was visiting her family in Beijing. She underwent sleep deprivation and brainwashing. They injected a drug into her as a result of which the left side of her body is still half paralysed. In the camp she made soft-toy rabbits for Nestle.
According to the estimates of the Research Foundation on the Laogai (forced labour camps), there are actually 6.8 million people imprisoned in 1,100 labour camps in China. Among the prisoners are common criminals, dissidents, journalists, prostitutes, Christians and many Falun Gong practitioners: an enormous gratuitous workforce.
Major consumer goods are produced: jumpers, clothes, soft-toy animals, toys, footballs, tablecloths and towels, sheets and embroidered cushions, jewels, wigs, Christmas trees, shoes, belts, wallets, mobile phone cases, tools, food, etc. Most of these products are for export.
The forced labour camps have no production costs, pay no salaries and are exempt from tax for the finished products. They build up around themselves vast economic zones that benefit from these advantageous conditions.
For each detainee sent to a forced labour camp the Public Security offices receive 1,500 Yuan (the average monthly wage is 500 yuans).
This system equates to veritable economic slavery set up and maintained by the Chinese Government. It violates the Chinese Constitution and international laws such as International Labour Organization Conventions Nos. 29 and 105. It encourages corruption, torture and organized crime (for 570 cases of death from torture in the camps, 24 per cent were Falun Gong practitioners).
According to the Research Foundation on the Laogai, the Chinese Government guaranteed publicly in October 2001 an end to the export of products made from forced labour.
We thank the Sub-Commission for the work accomplished on the subject of international norms and request that maximum effort continue to be made to verify the origin of products and so that all forced labour camps can be closed.
Mr Chairperson, Ladies and Gentlemen, we thank you for your attention.