The Epoch Times: Press Conference Held in Sydney for South Africa Shooting (Photos)
Translated from the Chinese edition
Jul 03, 2004
Falun Gong practitioners and families of victims of the South African shooting held a press conference outside of the Chinese Consulate in Sydney. EPOCH TIMES PHOTO.
SYDNEY -- At 10 am on June 30, Falun Gong practitioners and family members of the victims who suffered at the recent South Africa shooting held a press conference outside of Sydney's Chinese consulate. At the press conference, they talked to media in depth about the incident, in which Australian Falun Gong practitioners were shot at.
Falun Gong spokesperson John Deller said that when there were reports that Vice President Zeng Qinghong and Minister of Commerce Bo Xilai would visit South Africa between June 27 and 29, nine Falun Gong practitioners voluntarily went to South Africa for a peaceful appeal and to file a lawsuit against Zeng Qinghong.
On the afternoon of June 28, the practitioners arrived at South Africa's Johannesburg Airport. Around 8:30 pm, on their way to Pretoria, a white vehicle approached the cars that the practitioners were driving and opened fire. At least five gunshots hit the car. Afterwards, bullets holes through the car were visible and the car tires were flattened.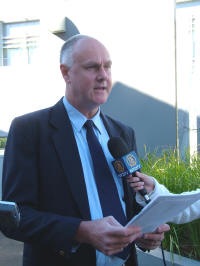 Falun Gong spokesperson John Deller explains in detail about the shooting at the press conference.
Falun Gong practitioners believe that this shooting is no ordinary criminal activity, and falls in the category of political intrigue and premeditated murder. The first fact sited is that the people shot at were Falun Gong practitioners with Australian citizenship. They were not familiar with any local South African people or places, and had no enemies there to speak of. Second, eyewitness Wang Tang revealed that the gunmen used an AK-47 assault rifle, and immediately escaped after firing. Unlike a common thief, the shooter made no attempt at robbery. Third, David Liang, the victim who was shot, was wearing a jacket with "Falun Dafa" written on it.
When it comes to criminal motive, the rational inference is that Zeng Qinghong and Bo Xilai hired local thugs to prevent Falun Gong practitioners from filing a lawsuit against them; or Zeng's body guards directly carried out an assassination attempt on Falun Gong practitioners.
It is reported that for more than 10 years, Falun Gong has spread overseas. This is the first case of Falun Gong practitioners outside of China being shot at. At the press conference, John Deller called on governments and media around the world to uphold justice and conscience, condemn Jiang and his followers' illegal suppression of Falun Gong and its terrorist acts, and begin a comprehensive investigation on this armed assault.
David Liang was the one injured victim in the shooting. His co-worker Mr. Luo told reporters, "David Liang has been a co-worker and friend of mine for many years. Now, I am very worried. He has parents, as well as two children for him to take care of. His mother is in a wheelchair. He is in the same profession as me, a taxi driver. Once we stop working, our income will also stop. So, his financial situation is what many of his co-workers and friends are concerned about. I hope that society and others can help him out."
Another friend told the reporter, "I've known Mr. Liang for more than two years. He is a very honest and kind-hearted man. Friends of his all agree that he is someone who is always willing to help others. David is also very filial at home. Everyone was shocked to hear what had happened to him. We are very concerned about his health. He has elderly parents and two young children. His health will directly impact his family life. So we are indeed greatly concerned, and hope he will soon recover. "
| | |
| --- | --- |
| | Mr Wei was among the group of practitioners that went to South Africa. His wife Xiao Qian and their three-year-old daughter attended the press conference. |
Mr. Wei was among the group of Australian Falun Dafa practitioners who went to South Africa with David Liang. His wife and their three-year-old daughter also came to the press conference. The wife told the reporter, "My daughter was so scared before she went to bed last night, and she cried and woke up throughout the night, thinking that something bad had happened to her daddy. Daddy is not home and she is really worried."
"We hope that all of those [Falun Gong] practitioners in South Africa can return home. We also hope the Falun Gong practitioners in China can safely return home. The persecution has extended from China to overseas. We hope that everyone can help to stop this global persecution of Falun Gong practitioners."
| | |
| --- | --- |
| | Mr Li was among the group of Falun Dafa practitioners that went to South Africa. His wife, Li Ying was interviewed at the press conference. |
Mr. Li is also among the group that went to South Africa. At the press conference, Mr. Li's wife, Li Ying, said to media that her husband received threatening phone calls just a few days before he left Australia.
Two months ago, their van, which has the Falun Gong insignia on it, was attacked near the Chinese consulate in Sydney. Its four tires were flattened, all the windows were smashed, and the car body was painted with graffiti.
Ms. Li believes that Jiang and his followers have exported their crimes to overseas; they try to incite hatred and carryout terrorism. Ms. Li Ying calls on the Australian government to strengthen citizens' personal safety. She hopes that all people and the Australian government can together help Falun Gong practitioners stop this kind of terrorism from spreading globally.
Source: http://english.epochtimes.com/news/4-7-3/22253.html