Epoch Times: Falun Gong Practitioners From Around the World Appeal at the DNC in Boston (Photo)
July 30, 2004 | Louise Rothman
The Epoch Times
Jul 29, 2004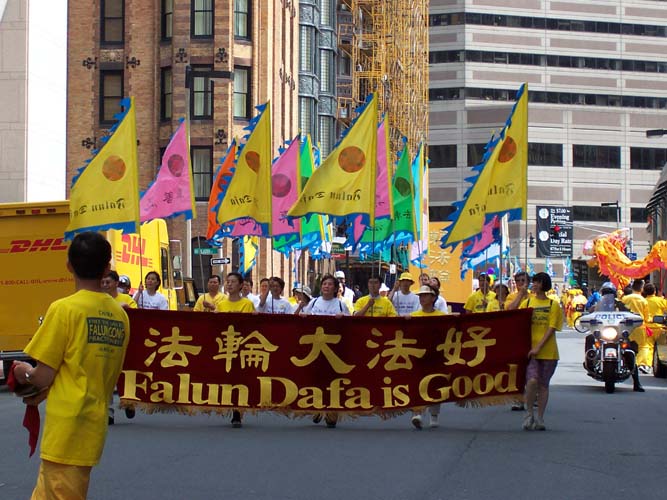 Falun Gong practitioners from around the world take part in a parade. The parade and other activities were held to reach out to the 45,000 people scheduled to attend the Democratic National Convention this week. (Photo source: ClearWisdom.net)
Falun Gong practitioners from around the world take part in a parade. The parade and other activities were held to reach out to the 45,000 people scheduled to attend the Democratic National Convention this week. (Photo source: ClearWisdom.net)
BOSTON - Several hundred Falun Gong practitioners from around the world held an event in Copley Square Park on July 26 to reach out to the 45,000 people scheduled to attend the Democratic National Convention this week. Practitioners traveled from across the United States and Canada and from as far away as Taiwan and Australia to inform people about the persecution of Falun Gong practitioners in China.
Throughout the day, practitioners re-enacted some of the tortures that the regime in China subjects practitioners to. The somber demeanor of the actors, the realistic make-up simulating their injuries, and the horrors of the various torture methods (including the tiger bench, and bamboo driven under the fingernails) shocked and touched passers-by. Several delegates to the DNC said they would tell other delegates to come to see the exhibit.
Daylong demonstrations of the Falun Gong exercises and a Chinese ribbon dance offered examples of traditional Chinese culture. A press conference provided background on the nature of Falun Gong and the ongoing persecution that was ordered in July 1999 by Jiang Zemin, China's former head of state and current military head.
Yeong-ching Foo, fiancée of U.S. citizen Charles Li, spoke about Dr. Li's incarceration in China. Dr. Li, a Falun Gong practitioner from Menlo Park, Calif., was arrested in China in January 2003 and sentenced to three years, charged with intending to tap into Chinese TV to expose the government's human rights violations against Falun Gong practitioners. He has been subjected to 18 months of brainwashing and torture. Ms. Foo explained that tapping into the TV signals is a peaceful means of exposing the human rights abuses and a necessary one since ordinary channels for appealing have been cut off.
Australian citizen Jane Dai spoke about the loss of her husband, who was tortured to death in China because he wrote a letter to the Appeals Office in Beijing explaining how Falun Gong had benefited his family and appealing for an end to the persecution. Shortly afterwards, authorities arrested him. Mrs. Dai and her infant daughter returned to Australia for their safety.
In July 2001, after months without any word of her husband, she learned of his death on the Internet. The Chinese government denied her a visa to recover her husband's ashes. It was only with the help of the Australian government and media she was able to do so.
Since that time, she and her daughter, now 4 years old, have traveled to 38 countries to inform people about the persecution. "I don't want to see other women and children go through the suffering I've experienced," she said. Her travels have included visits to Poland, Czechoslovakia and Hungary. She pointed out that when people escaped from those countries in the 1930's and told about the persecution of the Jews, the world didn't believe their reports in the beginning.
She also spoke about David Liang, the Australian Falun Gong practitioner who was assaulted with an AK-47 rifle shortly after his arrival in South Africa to disclose the crimes of Vice President Zeng Qinghong and Minister of Commerce Bo Xilai, high-ranking Chinese officials who have played a major role in the persecution and were visiting South Africa. Mr. Liang, a father of two children and a personal friend of Mrs. Dai's, could have been killed in what the South African police have described as attempted murder. "This overseas terrorism must be stopped,"? Mrs. Dai said. "I don't want to see any other families suffer."
John Jaw, president of the World Organization to Investigate the Persecution of Falun Gong, provided information about the crimes of Zeng and Bo. Mr. Jaw also announced the publication of the WOIPFG's new book "Investigation Report on the Persecution of Falun Gong," that reveals the plans of Jiang Zemin, China's former head of state, to systematically "eradicate Falun Gong" as well as documentation about how all branches of the government were forced to become instruments of the persecution. According to Mr. Jaw, the book is a landmark document for human rights. Not only does it expose Jiang's comprehensive plan to eradicate Falun Gong in China, it also uncovers the regime's tactics of spreading hate propaganda worldwide and interfering with the rights of practitioners in other countries.
Daniel Pomerleau spoke on behalf of Friends of Falun Gong, a nonprofit human rights organization dedicated to protecting the rights of people who practice Falun Gong. FoFG activities include public outreach and education, legal action, campaigns to rescue family members imprisoned in China and calling China to inform the citizens about what is happening in their own country, information that has been blacked out by China's state-controlled press. Mr. Pomerleau expressed gratitude to the American government and individuals who have provided assistance.
The program concluded with a traditional Chinese fan dance performed by Falun Gong practitioners and original songs by Maine singer and songwriter Marcus Gayle, inspired by the bravery of Falun Gong practitioners who meet persecution with the Falun Gong principles "Truth, Compassion, Forbearance" and respond with nonviolent appeals to China's campaign to eliminate them. Events will continue on the Boston Common and key locations in Boston and Cambridge throughout the DNC.
http://english.epochtimes.com/news/4-7-29/22611.html