World Journal Reports 3000 Falun Gong Practitioners Gather in Washington DC to Express Wishes (Photo)
(Clearwisdom.net) According to World Journal's report on July 28, the Chinese government's (Jiang's group's) ban on Falun Gong has lasted five years. Several thousands Falun Gong practitioners throughout the world gathered in Washington DC to hold mass activities to call upon the world to continue pressure the Chinese government.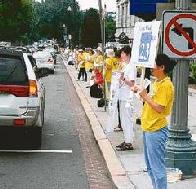 Falun Gong practitioners hold banners in hand and build a 3-kilometer "Great Wall of Courage" in downtown Washington DC.
On July 23, more than 3,000 Falun Gong practitioners dressed in yellow T-shirts and holding banners with the words "Truthfulness-Compassion-Tolerance" and posters against the persecution lined up along Connecticut Avenue in Washington DC to form a 3-kilometer-long "Great Wall of Courage". The ending point was the Tiananmen Memorial Park in front of the Chinese Embassy. Connecticut Avenue is one of the major streets in Washington DC. From downtown to Dupont Circle, the "Great Wall" drew great attention from people walking and driving by.
The several day's activities also included a grand exhibition of the torture methods utilized by (Jiang's group) to suppress Falun Gong in front of the Lincoln Memorial, rally and parade in front of the Capitol Hill. The "Kindle a candle" candlelight vigil on the evening of July 23 in front of the Lincoln Memorial pushed the activities to a climax.
At the peaceful protest on the west lawn of Capitol Hill, practitioners practiced the exercises while listening to speeches given by American people from different circles in support of Falun Gong.
The protest coordinator Mr. Xiang Dong pointed out that this rally was to introduce Falun Gong's peaceful spirit and form of cultivation, as well as to call upon the international community to help stop Chinese government's (Jiang's group's) suppression of Falun Gong.
Li Jinning coordinated the "Kindle a Candle" candlelight vigil in front of the Lincoln Memorial. He expressed in the drizzle and candlelight that lighting up a candle was to commemorate the Falun Gong practitioners who have died from the persecution over the past five years for upholding justice and conscience in the human world. He also wished that those who persisted in "freedom of expression" would also kindle a candle no matter where they were so as to awaken people's morality and conscience.