Falun Dafa Practitioner Mr. Zhang Jianhua Dies on a "Constraining Bed" in Jilin Prison (Illustration)
(Clearwisdom.net)
Falun Dafa practitioner Mr. Zhang Jianhua was from Yushu City, Jilin Province. He was first inhumanely beaten to the extent that both his chest and abdomen became heavily swollen. He was then placed on a "constraining bed" for torture. On January 22, 2004, which was the Chinese New Year's Day, he passed away on the "constraining bed."
Mr. Zhang Jianhua, who was around 50 years old, and was sent to the Jilin Prison not long before the Chinese New Year's Day. On New Year's Eve, he refused to follow the demands from the lawless officials and was thrown on a quilt and beaten by inmates taking instructions from prison guards. Mr. Zhang was then taken to a "maximum security unit." Soon, both his chest and abdomen swelled up as a result of the inhumane torture. The guards in the prison did not take him to the hospital. Instead, they continued the torture by leaving him on the "constraining bed." Not until the next afternoon (Chinese New Year's Day), did the inmate on duty think about taking a look at him. By then, Mr. Zhang had long since passed away.
In order to deceive other inmates and Mr. Zhang's family, officials of Jilin Prison have made up lies throughout the prison hierarchy, covering up the fact that he died because of police brutality.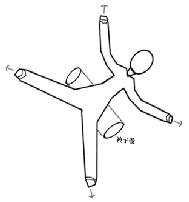 The torture of placing a person on the "constraining bed" is composed of three phases:
First, the person is placed on the bed with four limbs tied to it. Second, the person's body is lifted off the bed, with all four limbs stretched in four directions. Third, a roll of quilt is inserted under the person's body, and the person's body is further lifted, further stretching all four limbs, and then pressed downward.
According to reports on Clearwisdom Net, several Falun Dafa practitioners were taken to small cells for going on hunger strikes. They were put on the "constraining beds" for over thirty days. As a result, each of them suffered from spinal damage and could not sit down long after being taken off the bed. Their feet became swollen as well. Many of them were "further stretched" while being constrained to the bed. Their arms were injured and skin at their wrists was pulled off.
At the end of October 2003, under the instigation of the Jilin Prison Administration Bureau, prison officials installed a "constraining bed" in each of the small cells. Steadfast Falun Dafa practitioners have been taken there for torture. A total of seventeen "constraining beds" have been installed in the prison. Falun Dafa practitioners tortured include: Zhang Chunyu, Wang Jincheng, Zhang Wen, Tan Qiucheng, Wang Hongliang, Wang Jingang, Liu Zaojian, Liang Zhenxing, Li Huzhe, Wei Lisheng, Wan Shujun, Xu Hao, Zhang Weixi, Yang Junsheng, Wang Fengcai, and others.
Address of Jilin Prison in Jilin Province:
No. 100 Junbin Road, Jilin City, ZIP 132000
Country code: 86; city code: 432
Telephone numbers:
Main line: 4881551
Prison Affairs Section: 2409418
Procurator liaison office in the prison: 4881515; fax: 4881559
List of police officers in charge of persecution at the Jilin Prison:
Li Qiang, warden: 4881551 ext. 3001
Liu Changjiang, commissar of the prison: 4881551 ext. 3003; 2497756 (home)
Wang Yufan, deputy warden: 4881551 ext. 3006
Tan Fuhua, head of the Education Section: 4881551 ext. 3040; 4832386 (home), 86-13644478377 (mobile)
Li Yongsheng, cadre of the Education Section
Liu Wei, head of the Prison Affairs Section
Lin Zhibin, most wicked among all the lawless officials, head of Unit No. 5
Zhang Guilin, cadre of the Unit No. 4
Pang Hongjun, head of the Unit No. 6
Telephone numbers of leaders of the Jilin Prison Administration Bureau which supervises Jilin Prison:
Yu De, division head: 2750018
Bureau chief: 2750001
Xu, Party Secretary: 2750003
June 23, 2004