Falun Gong at Tampa Holistic Fair and Expo (Photo)
(Clearwisdom.net) On June 12 and 13, Falun Gong practitioners attended the Holistic Fair and Expo held at the Florida State Fairgrounds in Tampa. More than 1,000 people attended.
During the two-day event, many people came to our booth and learned Falun Gong exercises. Some traveled quite a distance to attend the expo and were very glad to see us there. Some vendors invited practitioners to join their community activities, and even offered space where we could hold free classes. Even though there are quite a few practice sites across the Tampa Bay area, people are also interested in evening classes. Practitioners will try to expand the schedule so that more people can enjoy the wonderful practice.
The Tampa Tribune (the largest local newspaper) came to do a report on the expo and was drawn to our table. A photo of a practitioner teaching the exercises was published in the newspaper the following day as a highlight of the expo.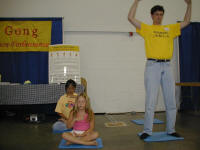 Children learn the exercises.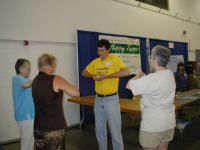 Practitioner teaching visitors the Falun Gong exercises.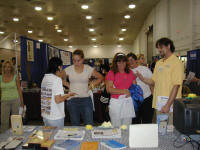 This family had heard about Falun Gong but had no idea how severe the persecution was. They planned to visit China, and after seeing the photos in Compassion magazine, they have a new understanding toward China, and plan to share the information with their friends.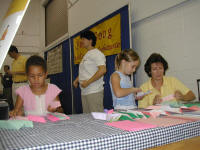 Practitioner teaching children to fold paper lotus flowers and explaining the meaning of lotus flowers.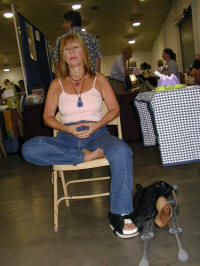 Anyone at any occasion can learn the exercises. Despite her crutches, this lady enjoyed a tranquil meditation after learning all five sets of exercises. She then went to a one-hour lecture given by Falun Gong practitioners.