Toronto: Practitioners Hold Press Conference to Call for Rescue of More Family Members (Photo)
June 18, 2004 | By Falun Gong practitioners in Toronto
(Clearwisdom.net) On June 15, 2004, at 11:00 a.m. Toronto Falun Gong practitioners held a press conference on the grounds of Queens Park, the Ontario Provincial Parliament buildings, and expressed their gratitude to the Ontario Provincial government and Members of Provincial Parliament (MPPs) for their support over the past few years in rescuing Ontario resident's family member, Falun Gong practitioner He Lizhi, and called for help rescuing the mothers of three more Ontario residents, Zeng Xiaonan, Xiao Jing and Liang Biao. The three mothers are being held in prison and brainwashing centers in China for practicing Falun Gong.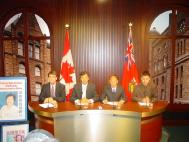 Falun Gong practitioners at the press conference: (from left to right) David Tompkins, John Zhang, He Lizhi and Zeng Xiaonan
John Zhang read a statement from the Falun Dafa Association of Canada. The statement expressed gratitude to Ontario Provincial government and Federal government for their support in rescuing He Lizhi over the past three years. He said, "Three years ago, at this same place, we held a press conference to launch a rescue of Ontario resident Zhang Li's husband He Lizhi." He Lizhi was a respected senior civil engineer in Beijing, and has been detained in prison for three and a half years for practicing Falun Gong. "We express our thanks to all people and MPPs in Ontario, Amnesty International and other non-governmental organizations. With their support, He Lizhi was able to arrive in Canada."
Amnesty International (Canada) listed He Lizhi as a "prisoner of conscience" in 2002, and called on the Canadian people to help secure his release. He Lizhi thanked Canadian Federal government, Ontario Provincial government and Amnesty International, and then told of the persecution he suffered in China's prison. "On July 21, 2000, I was illegally detained and sentenced to three and a half years of prison for mailing Falun Gong truth-clarification materials to my friends and colleagues, and denouncing state media's lies. During the detention, I suffered physical torture and mental torment, causing great damage to my health. I had once had a high fever for 45 days, and my chest was in acute pain, but I was not treated. Forced labor made me vomit blood, and my feet were too swollen to walk. My lung and kidney were severely inflamed. When the weather was bad, I had difficulty breathing. Especially during the outbreak of SARS epidemic, we were incarcerated in stuffy prison cell to labor."
He Lizhi also testified how prison guards brutally tortured other Falun Gong practitioners. He said, "I often heard women, Falun Gong practitioners, screaming excruciatingly while being force-fed."
Though he has been in Canada for nearly a month, he could not forget his experience in prison. He said, "I'm still shocked at the ordeal I experienced. Sometimes, when I woke up, I felt I was in a dream by being reunited with my wife in Toronto."
Toronto residents Zeng Xiaonan introduced the situation of his mother Huang Xinzeng. He said, "Huang Xinzeng was pharmacist at Shenyang City's Shenbei Hospital. She had retired early due to all kinds of illnesses, but after beginning the practice of Falun Gong, her health recovered. She has been arrested four times for practicing Falun Gong. The third time, she was left with injuries all over her body, and her weight dropped by half. My family member took her home when she was on the last gasp of breath" Zeng Xiaonan spoke of the dangerous situation her mother is facing after being arrested the fourth time, "In 2003, the police once again abducted my mother, and sentenced her to eight years in prison. She was held in Liaoning Province's Women Prison, and then transferred to Prison Hospital where she was forced to take mind altering drugs usually used for psychiatric patients. She would be beaten if she showed a bit resistance. She was shocked with electric batons and sustained injuries all over her body. Her limbs were tied up for a long period of time until she had no strength to resist."
Zeng Xiaonan said, "The drugs she was forced to take, over a long time, has left my mother dizzy and sleepy. Her tongue has become too stiff to speak, her responses are slow, and she often feels that worms are climbing around in her brain."
David Tompkins read a letter representing the three Toronto residents Zeng Xiaonan, Xiao Jing and Liang Biao to the Premier and all MPPs. The letter mentioned that Xiao Jing's 66-year-old mother Li Guangzhen was arrested at Gong'an County, Hubei Province this March for distributing Falun Gong truth clarification flyers. As she refused to renounce Falun Gong, she was sent to Wuhan City Brainwashing Class for persecution. Liang Biao's 66-year-old mother Huang Xiuchao was sentenced to four years in prison for practicing Falun Gong, and is being held at Guangdong Province's Women Prison where she was forced to attend brainwashing classes and forbidden to meet with family members.
The letter states, "While our parents suffer, we endure the similar pain. Many nights, Xiao Jing could not fall asleep because of his mother's arrest. Zeng Xiaonan had a broken heart upon hearing his mother suffering so much brutal torture. We are very much worried about our mother's safety."
The letter called on the Ontario government to immediately help rescue three mothers, namely, Huang Xinzeng, Li Guangzhen and Huang Xiuchao. "Mr. Premier, we request you to write to the Chinese government to help secure early release of our mothers."
In replying to reporters' questions, Zeng Xiaonan said, "through making phone calls, sending letters, getting on Internet and the media's reports, we have exposed the prison guards' brutal persecution of my mother. I also hope that Ontario government and MPPs directly contact the Liaoning Provincial government, or work through Canadian ambassador in Beijing to rescue my mother." "A letter, a phone call or any other help will play an active role in improving my mother's situation."
Zeng Xiaonan finally said, "I reserve the right to file a lawsuit against the officials and guards who participated in the persecution of my mother."