World Journal: Lifelike Exhibition of Tortures Suffered by Falun Gong Practitioners Held in Chicago (Photo)
(Clearwisdom.net) World Journal (a Chinese language newspaper) reported on May 26 that oral arguments in Falun Gong practitioners' lawsuit against Jiang Zemin were to be heard on May 27 in the U.S. 7th Circuit Court. Practitioners have held a series of large activities recently, hoping to help more people to learn about this issue.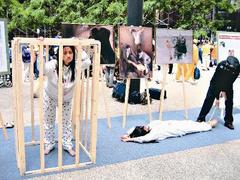 Practitioners held an exhibition of the tortures suffered by their fellow practitioners in China in Federal Plaza in downtown Chicago.
Falun Gong practitioners have held many activities over the last week including appeals, parades, and a large experience sharing conference last weekend. They held an exhibition to display the tortures suffered by Falun Gong practitioners in China in front of the federal building in downtown Chicago on May 24. The exhibition was held in front of the Illinois State Capitol on May 25 and again in Federal Plaza on May 26.
On October 22, 2002, Jiang Zemin visited Chicago. That same day, Falun Gong practitioners filed a lawsuit in the United States District Court of the Northern District of Illinois, Eastern Division against Jiang Zemin, charging him with torture, crimes against humanity and genocide. On September 12, 2003, the District Court judge dismissed the lawsuit on jurisdictional grounds, indicating that Jiang enjoys immunity. However, at that point, Jiang Zemin was no longer the head of state. On January 20, 2004, the US 7th Circuit Court accepted the appellate brief filed by attorney Terri Mash, who represents the Falun Gong practitioners.