Special Report: Enduring Tribulations and Celebrating the Principle of Truthfulness-Compassion-Tolerance (Photos)
(Clearwisdom.net) Clearwisdom reporter Gu Anru special report: On May 13, the world welcomed the fifth annual World Falun Dafa Day. This day was founded at the requests of Falun Gong, also called Falun Dafa, practitioners around the world and gives all people an opportunity to appreciate Falun Dafa and the principle of Truthfulness-Compassion-Tolerance.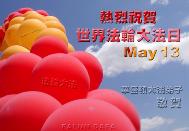 Observers have pointed out that Falun Gong is a group with a unique characteristic. When faced with brutal persecution designed to eradicate those who practice its principles, Falun Gong has showed extraordinary strength, which has been demonstrated not only through its non-violent manner and perseverance to end the persecution against it, but also by its practitioner's warm and upbeat attitude toward society and the public. Falun Gong practitioners peaceful and non-violent means in the face of a brutal campaign to eradicate them has been rare in history.
Introducing the principle of Truthfulness-Compassion-Tolerance; the world embraces it with open arms
Ever since Falun Dafa was first introduced to the public in May 1992, more than 70 million people have learned more about the practice within the past several years. The universal principle of Truthfulness-Compassion-Tolerance has enobled people's hearts, uplifted people's moral standards and brought peace to families and to the society.
Falun Gong practitioners have fond memories of practicing the 5 sets of Falun Gong exercising in groups before the persecution was launched in July 20, 1999. In the mornings, in parks and on wide sidewalks of major cities all over China, people practiced the Falun Gong exercises. It was a graceful and harmonious scene etched in the hearts of those who happened to pass by.
On March 13, 1995, Mr. Li Hongzhi, the founder of Falun Gong went to Paris, France to give a lecture about Falun Gong. He met with Chinese Embassy officials in France and gave a Fa (universal principle and law) lecture in the Cultural Division of the Chinese Embassy in France. From March 13 to March 19, the first overseas Falun Gong class was held in Paris, France, and from then on Falun Dafa was introduced to the world at large.
According to statistics gathered by Clearwisdom Net, as of April 2004, Falun Gong books have been translated into 30 languages and are being circulated around the world. The process of translating the books into additional languages is ongoing.
Right now, Falun Gong practitioners can be found in over 60 countries around the world, over 100 million people altogether. More people are starting to learn Falun Gong. People in different countries and from different ethnic groups have been touched by its profound teachings, which are respected and loved by people around the world.
Mr. Li Hongzhi, the founder of Falun Dafa received over 1,200 thank-you letters and proclamations from governments and organizations around the world. They came from the U.S.A, Canada, Australia, Taiwan, Europe, New Zealand, Japan, Indonesia, Peru and other countries and regions. Prior to 1999, the Chinese government issued Falun Gong and Mr. Li Hongzhi six awards. The earliest foreign acknowledgement came from the Houston city government in Texas, U.S.A, on August 3, 1994, when Mr. Li Hongzhi was named Honorary Citizen and Goodwill Ambassador.
Since 2000, Mr. Li Hongzhi has been nominated for the Nobel Peace Prize four years in a row for his contribution to the welfare of the world.
As the truth about Falun Gong spread further and further, Falun Gong practitioners' peaceful and rational behavior, their compassionate and noble words and actions, and their selfless dedication enabled the world to develop an objective understanding of it. Since World Falun Dafa Day was first founded in 2002, Falun Dafa Month, Falun Dafa Week and Falun Dafa Day all have been celebrated around the world.
Mr. Derek R.Corrigan, mayor of Nurnaby City, Canada, proclaimed the month of May "Falun Dafa Month" and was reported as saying that Falun Dafa is a great example in assimilating people's life and helping people to gain a healthy body and mind. Falun Dafa practitioners have brought the most wonderful part of Chinese culture to Canada and wished the best success in promoting Falun Dafa.
Ms. Farr, assistant to U.S. Congressman Tom Lantos, presented a speech at an outdoor symposium by Falun Gong practitioners held at the Garden Corner in San Francisco's Chinatown. In the speech, Ms. Farr stated that she knew it was very difficult for Falun Gong practitioners to follow Truthfulness-Compassion-Tolerance and that they always tell the truth, and follow Compassion. She said that no one is perfect, but Falun Gong practitioners always treat people with kindness when clarifying the truth, following Tolerance by practicing Truth and Compassion when achieving tolerance and endurance.
During various community and national celebration activities, Falun Gong has frequently been invited to represent Chinese culture. The practitioners have introduced Truthfulness- Compassion-Tolerance through various venues including health exhibits, cultural celebrations, book exhibits, sports events and holiday celebrations.
People have noticed that Falun Gong practitioner have become more creative in their activities to let the public know the facts about the persecution and about the practice of Falun Dafa. Practitioners have demonstrated the Falun Gong exercises in public, marched in parade that had squads of drummers playing traditional Chinese waist drums, as well as dragon and lion dances. They have dressed up in ancient Chinese costumes, presented musical concerts, dance performances, picture exhibits, street performances and movie viewings, among other things. They have received countless top prizes and proclamations. Falun Gong practitioners' peaceful demeanor moved audiences. Falun Gong practitioners' parade entries have been welcomed with applause and cheers wherever they go. They think the most essential part of Chinese culture is included in the principle of Truthfulness-Compassion-Tolerance, because traditional Chinese culture developed from these principles.
The opening parade of the Edinburgh Festival was held on August 3, 2002 in Scotland's capital. Falun Gong practitioners demonstrated examples of traditional Chinese culture and were welcomed by spectators who reportedly numbered almost 200,000. Falun Gong practitioners won the first prize in the Community Category for the second year running.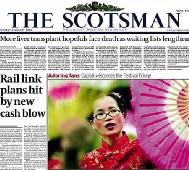 Front-page picture of Falun Gong parade in the The Scotsman, Scotland's largest newspaper
In the afternoon of April 10, 2004, about 3,000 Falun Gong practitioners from all over the world held a grand parade themed "The Road of Fa Rectification" in Manhattan's Chinatown. In addition to performing dragon and lion dances, several female practitioners dressed as celestial maidens and performed graceful dances. In addition to a drum procession, there were also specially decorated floats on which stood fairies and other characters from Chinese lore. On another float, practitioners displayed some of the torture techniques and situations in which they have been persecuted in by police and labor camp guards. Upon seeing how practitioners have been persecuted, many bystanders were moved to tears.
Falun Gong practitioners have gone to government agencies, schools, community centers, geriatric centers, airports, hotels, shopping centers, exhibition centers, parks and streets to distribute Dafa materials which clarify the truth of the persecution and explain what is Falun Gong. Some of the materials are in the form of VCDs, magazines and videotapes. Practitioners also have continued to teach Falun Gong exercises to the public free of charge. Many practitioners have consistently clarified the truth and introduced Falun Dafa over the past several years. They grasped all opportunities to tell people about the persecution against Falun Dafa taking place in China.
Falun Dafa has spread around the world and the principle of Truth-Compassion-Tolerance has become deeply rooted in many people's hearts. The following examples may demonstrate that kind-hearted people will stand up against this persecution after learning the facts.
On March 22, 2004, the person in charge of the Canadian Falun Dafa Association delivered a 50,000-signature appeal letter to the Canadian Prime Minister. With this letter Falun Gong practitioners in Canada requested the Canadian government urge the Chinese government to stop persecuting Falun Gong and to stop fostering hate propaganda against Falun Gong in Canada. Prior to this letter, the Canadian Falun Dafa Association had delivered an appeal letter with 150,000 Canadian people's signatures to the former Canadian Prime Minister Chretien. These signatures show that many Canadian people want the persecution to end.
Falun Gong practitioners are good citizens, no matter where they are
Almost any country would welcome morally decent citizens and would also welcome any teaching or belief system that helps people to better themselves.
Before Jiang's group began persecuting Falun Gong, the Chinese government on all levels not only acknowledged and supported Falun Gong, they also acknowledged and highlighted the selfless acts of many Falun Gong practitioners. In March 1999, before the persecution began, the Harbin City Police Department awarded the Harbin Falun Gong practice site an award entitled, "not pocketing money one has stumbled upon" in reference to practitioners honesty and moral character.
Award :

To Harbin Falun Gong Practice Site; 1998, advanced unit for "not pocketing money one has stumbled upon"; issued by Harbin City Police Department; March 4, 1999
Many foreign governments have issued recognitions to Falun Gong practitioners for their selfless acts, such as teaching the Falun Gong exercises free of charge, participating in community service projects and for their contributions to society.
On November 17, 2003, an award ceremony was held at Montreal's 17th Police Station to honor Falun Gong Practitioner Mr. Chen Ruqing for sacrificing his own interest for sake of others. He was the first citizen in Quebec of Chinese descent to receive such an honor. Chen Ruqing attributed his heroic act to his practice of the principles of Falun Dafa.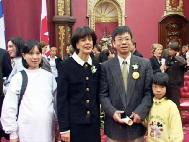 Mr. Chen Ruqing, his wife and their daughter with the Interagency Relations Minister for Immigration and the Citizenry
Mr. Chen Ruqing moved to Canada from Guangxi Province, China and currently lives in Montreal. In the afternoon of March 9, 2002, he was accompanying a friend on his way to a car garage in Verdun, when a boy ran toward them and shouted, "A girl has fallen into the canal!" Mr. Chen immediately ran toward the river, about 200 meters away. He saw a young girl struggling in a hole in the ice about 10 meters out from the riverbank. With no time to even take off his clothes, Mr. Chen crawled on the ice, grabbed the girl's hand and pulled her out of the hole. His friends called an ambulance and the girl was rushed to a hospital. Mr. Chen, who was completely soaked in icy water by this time, went directly home without waiting for a recognition of his deed. The police in Verdun found him after investigating the matter and presented him with an award in April 2002.
Ms. Michelle Courchesne, the Interagency Relations Minister for Immigration and the Citizenry of Quebec said during an interview, that to her knowledge Mr. Chen was the first citizen of Chinese descent to receive such an honor in Quebec. She expressed her happiness at the contributions made by Asian communities and Asian friends society and sincerely thanked them.
When asked by reporters why he went into frozen river to save the girl, Mr. Chen Ruqing said, "I didn't think much at the time. I saw the little girl struggling in the ice and I didn't think anything. But I know Master said Falun Dafa practitioners couldn't walk away from murder or arson without doing anything. If I saw the girl was going to die and I didn't help her, I wouldn't qualify to be a Dafa practitioner."
In June 2002, Canadian practitioners Zhang Zhaojin and Li Tiejun received awards from the Toronto city government for their long-term efforts in rescuing fellow practitioners in China and for their contributions to the community. Falun Gong practitioner Lucy Zhou showed selflessness in her effort to rescue persecuted Falun Gong practitioners in China. She received a certificate of appreciation in the "Humanitarianism" category. Cindy Chen of the Canadian Falun Dafa Association received an Ottawa Community Award for her outstanding contributions in the area of promoting health, safeguarding human rights and building a peaceful community.
On April 7, 2004, William Ryan, Chairman of Board of the Legislature and George Latimer, Legislator, Westchester County, New York, presented a proclamation to Falun Gong practitioners. The proclamation stated, "Throughout its history, Westchester County has been fortunate to have men and women who give of their time and talent for the betterment of the community." Mr. William Ryan suggested the proclamation after he learned of the savage persecution against Falun Gong in China. Falun Gong practitioners have spoken many times at legislative meetings and told of community service activities Falun Gong practitioners have been involved in. They also pointed out Jiang's group's crime of extending the persecution to U.S. soil as well as mentioned Resolution 188, asking Chinese government to end the persecution.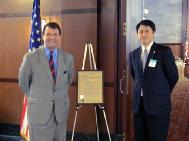 From March 27 to April 24, 2004, the Corruption Prevention Department headquarters of the Peruvian National Police organized 100 police officers to learn Falun Gong at 8 a.m. every Saturday at the Soldier's Plaza exercise field in Lima. The police officers further learned about Dafa and watched truth clarification videos of Dafa during these hours. On April 24, Falun Gong practitioners Ms. Mei Jiang and Ying Su were presented with a Certificate of Appreciation signed by the director of the Corruption Prevention Department, to commend their dedication to offer free teaching of Falun Gong. The police officer that hosted the ceremony said, "This selfless dedication deserves commendation and respect from everyone."
On December 22, 2003, the Taiwan Falun Dafa Association received an appreciation certificate from the Detention Center of the Prosecuting Department/Defensive Department/Taichung Local Military Court. The appreciation certificate reads: "Boundless Merit and Virtue." This certificate is to commend Falun Dafa for having brought positive physical and mental changes to many detainees. On December 20, Taiwan Falun Dafa Association received another certificate of appreciation from the Taichung Detention Center. Professor Lau attended the ceremony on behalf of the association to accept the certificate.
The director of the Taichung Detention Center in Taiwan said that many detainees are quite emotional. The meditation of Falun Dafa has demonstrated a noticeable effect to help them calm down. Furthermore, the "Truthfulness-Compassion-Tolerance" teaching of Falun Dafa helps them to examine their past and accept reality; consequently, they can live a more rational life.
These stories are only the tip of an iceberg. Don't we want more of this as a people, a country and a human race'
Oppose persecution with rationality
At the beginning of the persecution, Jiang claimed Falun Gong would be eradicated within three months. Some other people said Falun Gong wouldn't last three months.
Five years later, however, Falun Gong has not only not been "eradicated" - it has spread all over the world. Falun Gong practitioners have become more rational, more mature. Some people are amazed and marvel at the fact that Falun Gong has persevered through such annihilating persecution by a dictatorial regime.
Some people say that Falun Gong practitioners have not only walked through savage oppression rationally and with peace, they have also filed lawsuits. Falun Gong's anti-persecution efforts are not slogans or short-term efforts, but persists "no matter how long it takes, no matter how far and deep we have to search" which is an unprecedented, historical event and in the present world.
Falun Gong practitioners have thoroughly and deeply clarified the truth in a rational manner, and with wisdom and perseverance. Through their efforts they have completely exposed Jiang' group's lies and obtained support from governments, groups and kind-hearted people around the world.
On December 1, 2003, Motion No. 704 was passed in the Australian Senate, which indicated Australia's commitment to supporting the close relatives in China of Australian citizens who are detained for practicing Falun Gong, and calls on the Australian government to raise the issue in the context of human rights dialogues. About 200 Falun Gong practitioners from all over the country gathered in front of Parliament House in Canberra to support the senate's discussion of this motion, and to extend gratitude to the Australian government and the public for their efforts. They handed in 21,700 signatures from the Australian public who signed the petition in support of the motion to rescue the family members of Australians living in China, and to support the senate's discussion about this motion.
In April 2004, the Annual German International Human Rights Conference was held in Nuremburg, which is also known as the "human rights capital of Germany." A resolution was delivered to the European Parliament. One of the documents included the names of 102 Chinese officials who participated personally in the persecution and listed their crimes. The resolution asked European Union member countries to prevent these criminals from entering Europe, hold a human rights dialogue between human rights organizations and the persecuted group and immediately pass a resolution to condemn the persecution of Falun Gong in China.
On March 9, 2004, two NGOs, "Friends of Falun Gong" and "The World Organization to Investigate the Persecution of Falun Gong" (WOIPFG) submitted a list to the U.S. government with the names of 102 key persons who are responsible for the persecution of Falun Gong. These NGOs urged the U.S. government to prohibit these people from entering the U.S.
Forty-five Chinese officials who are known to have participated in persecuting Falun Gong practitioners in China, including Jiang Zemin, Luo Gan, Liu Jing and Zhou Yongkang were named on an entrance list of people who should be barred from entering Canada that the Royal Canadian Mounted Police (RCMP) monitors. If anyone named on the list attempts to enter Canada, a prompt investigation can take place, potentially resulting in refusal of visas to enter Canada, cancellation of their Canadian citizenship, deportation, charges and punishment based on Canada's laws governing crimes against humanity and war crimes.
Since October 2002, Falun Gong practitioners have charged Jiang Zemin with the crimes of genocide, torture, crimes against humanity, violation of human rights, deprivation of the right to life, conspiracy, and deprivation of conscience and freedom of belief. These charges were levied in the U.S., Belgium, Spain, Germany, Korea, Taiwan, Switzerland and other countries.
During the morning of Friday, March 12, 2004, Canadian attorneys Mr. David Matas and Lawrence Greenspon filed a criminal lawsuit against Jiang Zemin and those who participated in the persecution of Falun Gong. The suit was brought on behalf of Canadian citizen Mr. Zhang Kunlun, Professor of Art, and filed with Canadian Justice Minister, Mr. Irwin Cotler. In a press conference that afternoon, Mr. Zhang and his attorneys publicized the attorneys' letter to the Justice Minister. At 3:00 p.m. on April 7, 2004, renowned Chinese Australian artist and Falun Gong practitioner Ms. Zhang Cuiying filed a petition with the United Nations Commission on Human Rights, charging Jiang Zemin with genocide, torture and crimes against humanity.
Falun Gong practitioners have persevered through the past five years amidst tremendous tribulations with their righteous faith in Truthfulness-Compassion-Tolerance. Some people say it's the power of faith. Falun Gong practitioners say it's because of our rock-solid, righteous thoughts we obtained from practicing Falun Dafa. We are striving for our freedom of belief, but we believe our efforts will help not only ourselves but also other innocent people who suffer any kind of persecution. Falun Gong's peaceful and reasonable actions have established a good historical model, a model of overcoming violence through peaceful behavior and conquering evil with justice. It is a model that has enabled the world to enter a brighter future. History books will keep a record forever and humanity will follow these accomplishments.