California: San Diego Dafa Practitioners Celebrate "World Falun Dafa Day" (Photos)
(Clearwisdom.net) On May 13, 2004, San Diego Falun Dafa practitioners held a series of activities at the famous seaside tourist spot, La Jolla Park, to celebrate World Falun Dafa Day and to commemorate the 12th anniversary of Master Li's introduction of Falun Dafa to the public. The practitioners displayed photo boards that clarified the truth of Falun Dafa and the persecution, and they demonstrated the Falun Gong exercises and gave a waist drum performance.
Many tourists requested Dafa materials, and some even learned to practice the five sets of exercises. Three sisters from Utah and Seattle had traveled together to San Diego, and after listening to the practitioners' introduction of Falun Gong, they immediately showed great interest in it and wanted to learn the exercises. They spent more than half an hour carefully learning the five sets of exercises. They were very excited. One of them felt a strong energy flow and another felt warmth all over her body. They said that it was a special gift that they could learn Falun Gong in La Jolla Park. Before leaving, they invited the practitioners to pose for a photo, and they said that they would find a local practice site to continue learning Falun Gong when they returned home.
| | | | |
| --- | --- | --- | --- |
| | Three sisters happily practice the exercises while traveling together in San Diego | | Waist drum performance |
On the evening of May 12, San Diego practitioners held a group Fa study, and then each talked about his or her cultivation experience for one or two minutes. The practitioners used this special way to express their gratitude to Master, and at the same time, to wish Master a happy birthday.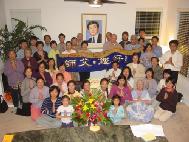 Thanking Master, and wishing him a happy birthday