Orlando, Florida: Practitioners Join "Spring Fiesta in the Park"
(Clearwisdom.net) On a beautiful sunny day, an annual arts and craft exhibition, "Spring Fiesta in the Park," was held beside Eola Lake in Orlando. The Falun Gong booth was decorated with colorful paper lotus flowers. Many people visited the booth, learned how to practice Falun Gong, signed postcards to help rescue Dr. Charles Li and signed an appeal letter and a yellow scroll. Falun Gong practitioners also taught people how to make paper lotus flowers. Crowds of people, young and old, were fascinated with the demonstration.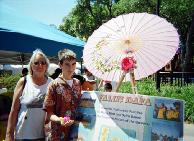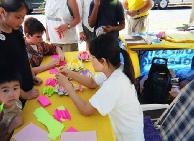 People learned the story of Fadu, the little girl whose father was tortured to death in China for practicing Falun Gong. (Fadu's story and the "Petals of Peace" program can be found at www.petalsofpeace.org) Participants of the lotus-making activity can take home their lotuses, an introduction to Falun Gong and a flyer of Fadu's story.
A Falun Gong practitioner handed out his Chinese calligraphy with the words "Truthfulness, Compassion and Forbearance." He also played beautiful music with a traditional Chinese music instrument called the Erhu. Many people paused to listen to this peaceful music.
Many people wanted to learn Falun Gong, and some started right away. Some college students of UCF found the president of the UCF Falun Gong Club and asked where to learn Falun Gong. A UN diplomat and her husband stopped by to talk to us. She asked if we had received any help from Non-Government Organizations. She told us that they play an important role in UN Human Rights Committee because they provide information to government officials.
Many people stopped to talk to us for a long time. A band manager was very concerned about the persecution of Falun Gong practitioners in China, because he has witnessed cruelties when he was in China three years ago. He said before their concert, they were asked to drop one of their songs, which contained the line "We pray at night," even though it was not a religious song. He complained that government officials and others constantly monitored them. Government officials sent teenage girls in mini-skirts to give massages to the musicians. The manager thought this was immoral. The most terrible thing that he saw was how the policemen used batons to beat the teenagers who requested signatures from the band members. He happily signed his name to call for release of Dr. Li, even though it may mean he would never be allowed to take his band to China.