Australia: Falun Gong Practitioners Appeal in Front of the Chinese Embassy, Urging to Bring Jiang, Luo, Liu and Zhou to Justice (Photos)
(Clearwisdom.net, February 15, 2004) Recently, it was reported that a number of Falun Gong practitioners in China died as a result of the persecution, and more practitioners were imprisoned and tortured. For this reason, on the morning of February 14, some Falun Gong practitioners from Australia held a press conference outside the Chinese Embassy in Canberra to call for bringing Jiang Zemin, Luo Gan, Liu Jing and Zhou Yongkang, the chief perpetrators of the persecution of Falun Gong practitioners, to justice.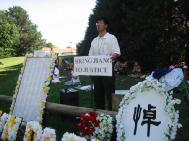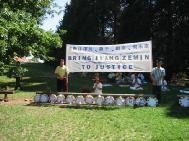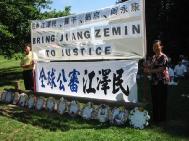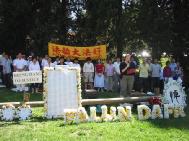 The above photo shows a list of Falun Gong practitioners who have died as a result of the persecution.