Canada's List of Responsible Parties for Persecuting Falun Gong Increases to 45 People
February 15, 2004 | By Clearwisdom.net journalist Dongna in Ottawa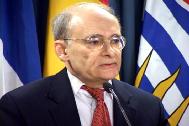 Renowned international human rights lawyer David Matas
(Clearwisdom.net) The Royal Canadian Mounted Police (RCMP) has a list of Chinese officials from each level of Party Committees, 610 Offices, local governments and forced labor camps that are responsible for the persecution of Falun Gong.
The list, which has been increased to 45 names, includes those of Jiang Zemin, Li Lanqing, Luo Gan, Wang Maolin and Liu Jing, among other well-known officials. If anyone on the list attempts to enter Canada, a prompt investigation could take place, potentially resulting in refusal of visas to Canada, cancellation of their Canadian citizenship, deportation, charges and punishment based on Canada's laws governing crimes against humanity and war crimes.
Last September, the Canadian Falun Dafa Association submitted a document to Canada's Crimes Against Humanity and War Crimes Program (CAHWCP). This file documented evidence of crimes against Falun Gong that were committed by 15 high-level Chinese officials, including those of Jiang Zemin. At the end of January, Falun Dafa practitioners in Canada provided the names of another 30 criminals, along with documented evidence.
The List Demonstrates the Depth and Scope of Persecution
The list of names includes the person who initiated the persecution, Jiang Zemin; the names of the "Leadership Group Dealing With Falun Gong Issues," otherwise known as the "610 Office"--Li Lanqing, Luo Gan, Wang Maolin and Liu Jing; and provincial (Liaoning, and Hebei), city (Beijing) level Party Committee members, and officials in forced labor camps (Masanjia and Wanjia).
The names of those who planned and conducted the persecution include not only each level of Party Committees and local governments, but also persons in the legal system (Zhou Yongkang), propaganda system and forced labor camp system.
Criminal Evidence on File
According to Li Xun, a member of the Canada Falun Dafa Association, "This criminal evidence comes from previously suppressed witnesses and practitioners in China who are brave enough to have provided information overseas. Large quantities of direct and indirect evidence have been collected from third-parties such as Amnesty International, United Nations Human Rights Organizations, Human Rights Watch and the World Organization to Investigate the Persecution of Falun Gong."
Besides Jiang and Luo, who are notorious for initiating and conducting the persecution, the current public security minister, Zhou Yongkang, appeared on the list as well. According to evidence provided by the World Organization to Investigate the Persecution of Falun Gong, since becoming the Sichuan Provincial Secretary, he actively cooperated with the suppression, gave orders to persecute Falun Gong, gave commands to the press to slander Falun Gong and issued awards to those who were involved in the persecution.
Provincial officials Bo Xilai and Wen Shizhen are also on the list. The report mentioned that Liaoning Provincial Governor and Vice-Secretary Bo Xilai was formerly the Dalian City Mayor and City Secretary. Dalian was one of the worst cities in the nation for persecuting Falun Gong during his term, over which he has undeniable responsibility. It is evident from meeting minutes and reports that he plotted and assigned many aspects of persecuting Falun Gong.
Liaoning Provincial Secretary Wen Shizhen has been attacking Falun Gong viciously. On July 20, 1999, when Jiang and his regime began openly persecuting Falun Gong, Wen delivered a series of speeches to further the suppression. After Jiang slandered Falun Gong when interviewed by Le Figaro, Wen immediately delivered a speech to echo Jiang's words. He planned the persecution of Falun Gong in many meetings held by the provincial committee, local governments and other organizations.
Su Jing from Masanjia Forced Labor Camp in Liaoning Province and Shi Yingbai from Wanjia Labor Camp in Heilongjiang Province are also on the list. According to www.fawanhuihui.org, Su Jing is notorious for cruelty and won a second-level award for persecuting Falun Gong. Shi Yingbai and his followers used many brutal torture methods to brainwash Falun Dafa practitioners, forcing them to give up their beliefs. Masanjia and Wanjia are the worst forced labor camps for torturing Falun Dafa practitioners.
When asked about the legal requirements for denial of entry into the country, Mr. David Matas said, "I saw the evidence and read the law. The evidence is so compelling and their crimes so heinous. From my point of view, as the threshold for denial of entry to the country is relatively low, it is much more likely for them to get caught. I would be very surprised if they were not denied entrance, given such reliable evidence and specific regulations."
More Persecutors Will Be Submitted
The World Organization to Investigate the Persecution of Falun Gong confirmed that it has already received more names and evidence of involvement in the persecution from each region's Political Judiciary Committees, "610 Offices," Public Security Bureau, State Security Bureau, news publishing departments, from all levels of media, education, culture and foreign relations department, the Internet information censorship bureau and from youth and women's organizations. Mr. Li Xun said, "This list of forty-five names marks only the beginning of our actions. We will provide tens of thousands names to CAHWCP. They are ready to accept our further additions to the list."
According to reports from China, one upper-level "610 Office" has ordered lower county-level "610 Offices" to internally collect all documents ever passed down since 1999, when the persecution began. They want to destroy evidence of their crimes. Canadian Falun Gong practitioner Ms. Lucy Zhou expressed that although evidence may be partially destroyed, the evidence of those who committed crimes against Falun Dafa practitioners can never be permanently destroyed. We suggest to Jiang's followers that they immediately make amends for their crimes in order to gain a better future. It would be far better to pay for their crimes now than to be eternally punished by karmic retribution.