New York: More than A Thousand Falun Gong Practitioners Build a "Great Wall of Courage" Once Again (Photos)
(Clearwisdom.net) Clearwisdom Net correspondents Kelly Huang and Ying Wang report from New York - On November 22, 2004, practitioners from all over the world once again built a "Great Wall of Courage" on the streets of Manhattan to display the indomitable spirit of Falun Dafa. The Great Wall of Courage, formed by more than a thousand Falun Gong practitioners, extended from 42nd Street in midtown Manhattan to Park Avenue and Madison Avenue passing through more than 40 streets. As reported by the New York Times on November 22, thousands of Falun Gong practitioners from all over the world gathered on the streets in New York and talked to people about the persecution of Falun Gong in China.
| | | | |
| --- | --- | --- | --- |
| | Two-year-old practitioner and her father call for an end to the persecution | | European Falun Gong practitioners on 42nd Street in Manhattan |
Ms. Zhu, a 60-year-old chief gynecologist from Belgium, said that Jiang's faction is still persecuting Falun Gong practitioners in China. The persecution aims to poison people with lies. Not only Chinese people are deceived and poisoned, but people throughout the world are misled by their lies. We have come here to allow people to learn that those who believe in Truthfulness-Compassion-Tolerance are a group of good people. Unfortunately in China, this group of good people is suffering brutal persecution. We tell people the facts and hope they will work with us to end this suppression.
Ms. Zhu added, "Manhattan is the world's center of trade and finance. During the process of the persecution, Jiang's faction has employed a quarter of the entire country's financial resources, most of which is from overseas investment. The investing corporations are therefore indirectly participating in this oppression without being aware of it. They are also victims who are deceived. The world needs Truth-Compassion-Tolerance. As New York was attacked by terrorists, it should treasure Truth-Compassion-Tolerance even more."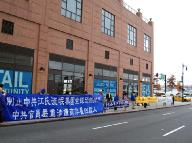 Appealing in front of the Chinese Consulate
Dr. Zou Wei, a Ph.D. in biochemistry, came with his parents from California. He especially made time from his busy research work to come to New York to take part in truth-clarification activities. He said, "Practicing Falun Gong has brought people great benefits in improving their physical and mental health. More than 100 million people in China practiced Falun Gong. Out of his jealousy, Jiang Zemin started suppressing Falun Gong in July 1999 and the persecution has been going on for more than 5 years. Western mainstream media has not paid sufficient attention to the oppression and reports on it are scattered. On the other hand, many big western consortiums invest in China and hence, they turn a blind eye to the human rights violations in China. Therefore, I feel that I have the responsibility to come to Manhattan, the capital of finance, and clarify the facts. It would be helpful for New York citizens and people in the financial world to learn the truth about the persecution."
Dr. Zou said, "When I handed out truth-clarifying materials on Wall Street, I encountered a white-collar westerner. He said that Falun Gong is the most persistent group that he has ever seen in New York." He continued, "This morning, when I handed out leaflets on the Park Avenue, an American gentleman gave me a copy of the New York Times published on Monday, which reported Falun Gong practitioners' truth-clarification activities in Manhattan. He told me that he had read the article introducing Falun Gong and gave the newspaper to me."
Ph.D. candidate Mike Yeh from Los Angeles pointed out that Manhattan is very important because it is the financial center. He said, "I feel that it is very necessary that they should know about this suppression happening in China. The persecution has been going on for five years and we must stop it. But if there are still many people who don't know the truth, especially if those whose voices are capable to help stop the persecution don't know about it, the persecution could last longer. Therefore, we hope to help these people to learn about the facts as soon as possible and work together to stop the suppression."
A bus driver stopped, came out of the bus, and said to practitioners, "I pass here every day. Today I feel different. I feel a kind of uplifting spirit and a peaceful field. I will tell my boss about this."
A New York resident told practitioners that if everyone paid attention to Falun Gong, the persecution would definitely end soon. He said, "You are doing a great job, please keep doing it."