Additional Information about the Persecution and Death of Falun Dafa Practitioner Ms. Huang Sujun from Jieyang City, Guangdong Province
(Clearwisdom.net) Ms. Huang Sujun, about 50 years old, was a Falun Dafa practitioner in Jieyang City, Guangdong Province. She lived near the Jinxianmen Market in Rongcheng District. Huang Sujun was the name on her identity card, but most people affectionately called her Auntie Weijun.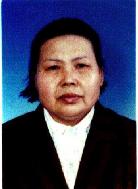 Huang Sujun
Huang Sujun was tall and plump, modest and very kind to everybody. She fulfilled her duties to her over 80-year-old mother and mother-in-law, and willingly bore the burden of family duties regardless of her husband's criticism. Since she had practiced Falun Gong for many years (starting in 1996), whenever Auntie Wejun was mentioned, fellow practitioners always showed great respect for her.
In August 2001, the incident of eight practitioners breaking away from a brainwashing class made a stir in Jieyang City. Huang Sujun was one of those eight practitioners. In order to protect and help the other practitioners to escape, she stayed behind as the last one.
In 2001, upon learning that a practitioner who had been forced to become homeless had come to Jieyang City and urgently needed housing, Huang Sujun sold her only personal items -- a pair of gold bracelets, and put all the money towards this practitioner's house-rental and living expenses.
Huang Sujun lived near the Jinxianmen Market in Jieyang City. She often posted truth-clarification materials and messages exposing the illegal persecution on the wall near the Market in order to let the local inhabitants know the truth about Falun Dafa. Sometimes she clarified the truth to the business travelers face-to-face.
In the beginning of March 2002, in order to facilitate exposing the persecution, Huang Sujun took over the work of delivering Falun Dafa materials. With a pile of truth materials on her bicycle, this 50-year-old Auntie went back and forth on the streets of Jieyang City. The quick and upright image of Huang Sujun impressed her fellow practitioners.
On March 23, 2002, while distributing the truth-clarifying materials at Xianqiao Township in Rongcheng District, Huang Sujun was arrested and sent to the No.1 Detention Center of Jieyang City. On May 18, 2002 she started a hunger strike to protest the illegal detention. The police could not obtain any information from Huang Sujun regarding other practitioners or the source of the truth-clarification materials. On May 15 she was secretly sentenced to forced labor. Because she was older and on a hunger strike, on May 30 Ms. Huang was to be released but officially confined to house detention. But this "protection" was a mere scrap of paper. Huang Sujun was still on hunger strike in the detention center and her critical condition did not improve.
Since Huang Sujun was on hunger strike the whole time, the police tried force-feeding her several times, but failed. On June 7, the police called her family members. By that time Huang Sujun could no longer stand up.
At 5:30 p.m. on June 11, because Huang Sujun fell into coma again in the detention center, Wei Wanrong called for a car to send her back home. Wei Wanrong lied to her family, telling them Huang Sujun was still able to stand and walk.
After Wei Wanrong left, Huang Sujun's husband Liu Yangyun asked a doctor to give a diagnosis. The doctor indicated that she must be sent to the hospital for immediate rescue. Unfortunately, because she was too weak after over 20 days of hunger strike, Huang Sujun passed away on June 15, 2002.
The police who illegally arrested, interrogated and detained Huang Sujun refused to release her or give her medical treatment during her hunger strike; they also did not execute the protective order for house detention nor inform her family of the seriousness of her condition so they could care for Ms. Huang. Instead, they concealed information about her critical condition, disregarding human life and causing great suffering to Huang Sujun and her family.