Falun Dafa Practitioner Feng Xiaomin from Shijiazhuang City Forced into Homelessness and Passes Away Due to the Persecution (Photo)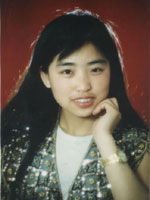 Feng Xiaomin
(Clearwisdom.net) Ms. Feng Xiaomin, a Falun Dafa practitioner from Shijiazhuang City, was persecuted for practicing Falun Gong and forced into homelessness. She died on June 1, 2004 at the age of 34 and left behind her son, who is only one year old.
Feng Xiaomin was born in Yian County, Heilongjiang Province in 1970. She graduated from Qiqihaer Normal College and worked at the Sixth Textile Factory of Shijiazhuang City. She lived with her sister and brother-in-law.
Being of small stature and lacking physical strength, Ms. Feng could not complete a full shift in the factory and was often discriminated against because of it. As a result, she cried often and was depressed, thus affecting her health. Seeing her sister and brother-in-law becoming healthier and happier through the practice of Falun Dafa, Ms. Feng also started to practice in 1996. As she continuously read the Falun Dafa books and practiced the exercises, she started to understand many principles. She understood that she should look within herself whenever she encountered a problem, treat others kindly, and conduct herself strictly according to the principles of "Truth, Compassion, Tolerance" to become a better person. Ms. Feng started to feel better spiritually and emotionally, her health improved and she worked harder.
Later, Feng Xiaomin met a fellow practitioner named Wang Xiaofeng; they fell in love and got married. Every morning, the couple went to the group exercise site to do the Falun Dafa exercises, went to work energetically, and studied the Fa (1) in the evening. They continuously purified their mind and body by removing their shortcomings and attachments. On the weekend, they either went back to their parents' home to keep them company or invited her sister's family on sightseeing trips. Ms. Feng lived a peaceful and happy life.
In the early morning on July 20, 1999, a massive arrest of Falun Dafa practitioners began and both her sister and brother-in-law were arrested. Their young son Wang Boru, less than 10 years old, was left home alone. Feng Xiaomin had to resign from her job in order to take care of her nephew. Wherever Ms. Feng went, she brought Wang Boru along to tell people about the wrongful treatment of Falun Dafa and to look for her sister and brother-in-law. She went to the City and Provincial Appeals Offices, and was told that the only place that could solve her problem was the Government Appeals Office. So Feng Xiaomin and Boru went to Beijing. Many police officers were stationed everywhere to prevent practitioners from going to Beijing to exercise their legal right to appeal. Ms. Feng and young Boru had to walk through a cornfield to avoid the police, with blisters covering their feet. Hungry and thirsty, they finally reached Beijing. Plainclothes police were also everywhere to arrest people. Together with many practitioners, Feng Xiaomin went to Tiananmen Square. Several thousand Falun Dafa practitioners sat on the ground, surrounded by armed police. Suddenly, the police started to drag the practitioners into police cars. Hand in hand, the practitioners steadfastly resisted. Then the police began to beat the practitioners, who bravely said, "Don't strike back when beaten and don't curse back when cursed." The scene was both a tragic and magnificent. Some police officers were moved and stopped beating the practitioners. However, a policeman hit Feng Xiaomin on her neck and threw her into a bus to send her back to Shijiazhuang. Since that incident, she has not had a single day of peace.
Police officers from her town tried to force Ms. Feng to write a "Guarantee Statement" to stop practicing Falun Gong, while the Neighborhood Committee monitored her. Out of fear, friends and close relatives tried to persuade Ms. Feng to give up Falun Dafa, since Boru needed her care. Even though she was under immense pressure, Feng Xiaomin bravely persisted in practicing Falun Dafa. Her sister and brother-in-law finally returned home after two months of detention and interrogation. However, they were often monitored and followed.
In the end of December 2000, her brother-in-law was arrested again while at home. Ms. Feng's sister left home to avoid further persecution. The burden to look after Boru fell upon Feng Xiaomin again. After Ms. Feng searched for her sister and brother-in-law for a month, the police sent her sister back home; she had been tortured so brutally that she was on the brink of death. Many people who saw her sister's condition said that she had no hope of her recovering. Still, Feng Xiaomin carefully looked after her sister while she educated herself to understand her rights as a citizen, made phone calls, wrote letters, went to the police bureaus to expose the evil deeds of the lawless police who persecuted her family members, and warned them that if anything happened to her sister, they would be fully responsible. She also firmly demanded the release of her brother-in-law. Because of her care and hard work, her sister recovered in one week and the police did not dare to arrest her sister again. Under that harsh environment, Feng Xiaomin's righteous thoughts and actions shocked the evil and laid the foundation for her sister to live safely at home. (At that time, many practitioners were forced into homelessness due to the relentless persecution).
In May 2001, Feng Xiaomin and another practitioner planned to hike up a mountain to hang up banners that read, "Falun Dafa Is Good." However, they were arrested by police from the Donghualu Police Station, Shijiazhuang City. Feng Xiaomin disappeared for more than 40 days and no one knew of her whereabouts. During this time, Director Shi and policeman Fang Zhiyong from the Donghua Road Police Station tried to get a confession out of Ms. Feng by brutally torturing her, causing her to pass out several times. In order to send her to the First Detention Center of Shijiazhuang City, Director Shi ordered officer Fang Zhiyong to tear up the pages of her health record where the doctor had suggested she was in a life-threatening condition.
The police at the detention center instructed inmates to slap Feng Xiaomin's face dozens of times, which caused her to nearly pass out. Ms. Feng steadfastly resisted and refused to cooperate with the authorities. To protest the illegal persecution, she stopped eating and drinking for more than 20 days and on several occasions, her life was in danger. The detention center did not want take responsibility for her death and did not want to keep her there anymore. The labor camps also rejected her admission, but the Donghua Road Police Station still did not want to release Ms. Feng and wanted to extort 5,000 yuan from her. When Feng Xiaomin finally returned to her sister's home, she had a high fever and felt very weak.
To avoid further persecution and not cause difficulties for others, before she had completely recovered, Feng Xiaomin and her husband decided to leave her sister's home and live a homeless life. Still, the police often harassed her sister even though Feng Xiaomin no longer lived with her. To avoid implicating her relatives, Ms. Feng rarely contacted them. Under such difficult circumstances, Feng Xiaomin's health still recovered quickly. She diligently studied the Fa, practiced the exercises, told people the facts about Falun Dafa and the persecution, and sent forth righteous thoughts. In September 2002, Ms. Feng gave birth to her first child and her life became more difficult.
In order to arrest her and her husband, the city's "610 Office" secretly investigated them for two months. Everywhere, the police tried to arrest Falun Dafa practitioners with the excuse of checking on the number of household occupants. As a result, Feng Xiaomin, her husband and her infant baby had to constantly move to avoid being arrested. They often lived under intense emotional stress. Particularly during the period of the SARS epidemic, everyone was required to show their certification letter and identification card everywhere they went. The homeless practitioners often did not bring their ID cards with them. For safety reasons, Feng Xiaomin and her husband had to separate from each other. Ms. Feng took care of their child and life became even harder for her. Under the tremendous pressure, Feng Xiaomin was no longer able to take care of her baby and left her one-year-old infant to her sister's care.
In late May 2004, a kind person found Feng Xiaomin and sent her to her sister's home. By this time, she was in and out of consciousness, and she died five days later after being sent to a hospital. Ms. Feng was diagnosed with inflammation of the brain. The fluid taken out of her brain was light-yellow in color. The doctors suspect that Ms. Feng had received a head injury. Her family members believe that she was tortured by the police. When her family members saw her, Feng Xiaomin was not able to recognize them. She considered everyone a police officer and shouted that she would not allow the police to persecute her. The events leading to the death of Feng Xiaomin are still under investigation.
The "610 Office" of the Police Bureau of Shinjizhuang City is still going after Feng Xiaomin's husband, Wang Xiaofeng.
Feng Xiaomin's sister Feng Xiaomei's phone number: 86-311-5811851,86-311-6730639
Contact Information of the Perpetrators -
Political and Security Branch of the Police Bureau of Shijiazhuang City (83 Minzu Road, Shijiazhuang City, Zip code 050000)
Head, Xiao Shuxiang
Vice Head, Ma Wensheng
Squadron Head, Deng Fang; Division Heads, Li Ruihai, Wang Xiaofeng (responsible for religious affairs), Zhang Qiuli. Police Officers: Ma Yong, Li Yong
"610 Office" of the Police Bureau of Shijiazhuang City
The Yuhua Police Sub-bureau of Shijiazhuang City (2 Jiangtong Road, Shijiazhuang City, Zip code 050000)
Vice Director, Li Jun (the main perpetrator persecuting Falun Dafa practitioners): 86-311-6122610
The leaders of the political and security brigade: Zhang Jiansheng and Han Dengfeng.
Director, Li Xinle
Donghua Road Police Station of Shijiazhuang City (5 Meishi Street, Shijiazhuang City, Zip code 050000) Telephone: 86-311-6032639.
Instructor, Shi
Policeman: Fang Zhiyong
Yuqiang Police Station
Director He and police officer Sun.
(1) Fa: Law and principles; the teachings of Falun Dafa.
September 24, 2004