Taiwan: A Contrast of Treatments on the Same Festive Occasion - Introducing Falun Dafa on National Day (Photos)
October 16, 2004 | By Yiling in Taiwan
(Clearwisdom.net) Sunday, October 10, 2004 was Taiwan's National Day. As in previous years, a group of Falun Gong practitioners brought truth clarification display boards and materials to Chung-Cheng Memorial Hall to introduce Falun Dafa and conduct truth clarification activities for the public. On the way to the hall practitioners discussed the Beijing police's violence against a Falun Gong practitioner on Tiananmen Square in front of numerous people who celebrated China's National Day on October 1.
Police violence on Tiananmen Square on China's National Day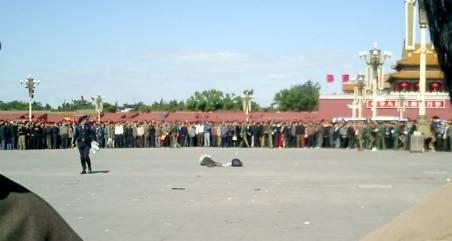 The bag to the right belongs to the practitioner, who was beaten to the ground. The person to his left is a policeman. In his left hand is the banner that the practitioner unfolded moments before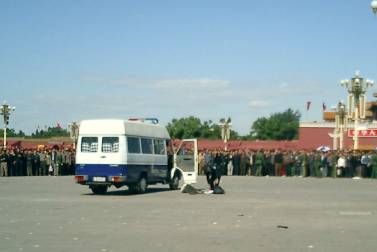 Police trying to drag the practitioner to a police minivan
A sea of flags and banners were fluttering in the wind on the way to Chung-Cheng Memorial Hall. Upon entering the Chung-Cheng Memorial Hall garden, one could see a crowd of people, and also many police officers all over the square. Later we learned that there would be a dinner reception here to celebrate the National Day, and the police were here to maintain order.
When we reached our regular place to get ready to introduce Falun Dafa to the public, we wanted to place display boards along side Zhanyang Road so that more people could see them and to create a good effect. So we decided to explain this to the police. We had thought there might be some difficulties, but the police unexpectedly smiled and said there were so much space here, so long as we would not interfere with others, we could set up anywhere we wanted.
So we moved to the roadside of Zhanyang Road, and set up Falun Gong truth clarification display boards. People swarmed towards us to look at the display boards. A mother with her child said, "Look, how cruel, these people only did the exercise to improve their health, but they were tortured to such an extent in China." Before long, a police officer also came over and said he knew Falun Gong is good, and that he would come to learn to practice if he had time. He also told us there were more people at another area, and we may want to move there.
After moving to the new site, a steady stream of people came to look carefully at our display boards and our peaceful exercise demonstration.
Introducing Falun Dafa at Chung Cheng Memorial Hall garden on Taiwan's National Day attracts numerous visitors
A guest who was heading for the dinner reception took a truth-clarifying flyer and asked us, "May I have a complete set of materials you have? I want to thoroughly study it." A gentleman from the USA said, "I saw many Falun Gong practitioners in yellow clothes in New York. I saw your determination to stop the persecution. Your persistence and courage are touching."
Some people said to us anxiously, "Such a powerful regime, are you able to resist it?" We told them that we do not mean to resist any regime, only to resist the unreasonable and brutal persecution against human rights and beliefs. We told them that we wouldn't be here if Jiang's group had not directed and mobilized national machinery, the media, and deceitful propaganda to frame Falun Gong and deceive all people in the world.
Some other people said, "You are too kind, you should be tougher." We said to them, "Truthfulness-Compassion-Tolerance is our belief. Amidst the Jiang group's inhumane persecution in the past five years, Falun Gong practitioners in China and all over the world have held such principles, sacrificed our own vacations and money, and even lives, to make use of various channels to break through the blockage, telling the public the facts about Falun Gong. If all the righteous people in the world stand up, this catastrophe will definitely be stopped."