Spain: Promoting Falun Gong and Raising Awareness of the Persecution during a Persecutor's Visit to Madrid - Part 1 (Photos)
October 15, 2004 | By a Spanish practitioner
(Clearwisdom.net) On the eve of Jia Qinglin's visit to Spain, the Spanish Falun Gong Association and their lawyer filed a lawsuit to the Spanish National Court against Jia on September the 2nd for the crimes of genocide and torture he committed in persecuting Falun Gong. At the same time, a press conference and a series of activities were also held to raise awareness about Falun Gong and the persecution.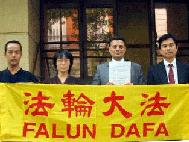 Falun Gong practitioners and their lawyer in front of the Spanish Court
Jia and his entourage arrived in Spain's capital, Madrid, from Barcelona on September the 5th. Falun Gong practitioners went to the hotel where Jia Qinglin stayed. They displayed banners and exhibited photos of the persecution in front of the hotel. Flyers were also distributed to passers-by to let them know about the persecution.
Jia Qinglin has been accused of the gravest crimes against humanity committed during the brutal persecution of Falun Gong practitioners in Mainland China while Secretary of the Municipal Committee of the Chinese Communist Party in the city of Beijing from 1999 to November 2002. His activities have been and are being investigated by the "World Organization to Investigate the Persecution of Falun Gong", which has verified how Jia Qinglin gave full support to the campaign of persecution against Falun Gong launched by Jiang Zemin on the 20th of July of 1999.
Immediately after that date, Jia Qinglin himself summoned a large conference of the Committee on Policies of Beijing, of which he was Secretary General, and publicly demanded all institutions within the Party and its members to adopt a firm position against Falun Gong and practitioners. On multiple occasions and as part of his official position, he attacked Falun Gong and practitioners, taking advantage of his speeches to promote the persecution and incite the Chinese authorities of different level to collaborate in this persecution. In many occasions he thanked and praised those who were directly involved in the persecution.
During Jia Qinglin's tenure in office as head of the Committee on Policy of Beijing, from 1999 to 2002, innumerable atrocities were committed against Falun Gong practitioners, with many cases of death due to torture reported and documented including that of female practitioner Wang Lixuan and her 8-month-old baby. He is also directly responsible for the illegal detention of millions of Falun Gong practitioners in Beijing.
Among the numerous pedestrians passing the hotel were some Chinese people, both local Chinese and members of the Chinese delegation. Grasping this precious opportunity, practitioners chatted with them and gave them leaflets. A Chinese gentleman accepted a flyer from a practitioner. He stopped walking and read it carefully. The practitioner asked him, "Do you understand the truth about Falun Gong?" He replied, "I know! Falun Gong has been treated unjustly. I have been paying close attention to this event. It is the largest persecution in history. Jiang Zemin has murdered so many good people. Although I don't practise Falun Gong, I know Falun Gong is very righteous and very good. I fully support Falun Gong!"
With so many passers-by stopping to read the display boards and the flyers, trying to understand what was going on, practitioners became short-handed. This Chinese gentleman volunteered to take over the banner from a western practitioner so that they could go and talk to the crowd. As he held the banner, his facial expression was solemn. Practitioners were deeply moved by his sense of justice and wished him a great future.
Many Spanish people expressed their outrage and bewilderment after they read the display boards about the persecution. They denounced the evil conduct of the Jiang regime. A lot of them asked if they could sign their names on a petition to support Falun Gong. Two well-dressed elderly ladies kept asking us when we would be there again. They said they would ask their friends to sign their names, too.
Around 9 o'clock, a crowd of people suddenly showed up in front of the hotel. Chinese officials started to come in and out of the hotel to negotiate with the police repeatedly. It turned out that Jia and his group were about to go out. However, they wanted to block the front entrance of the hotel with tour buses so that Jia wouldn't have to face Falun Gong practitioners. Simultaneously, they also requested the police to block us off using police cars. A police officer accepted their request under pressure from the Chinese delegation. With double blockades, we could not see when Jia came out of the hotel. However, when the security guards suddenly became a lot more alert, we knew Jia was coming out of the hotel. Practitioners cried out loudly in chorus, "Falun Dafa is Good!, "Stop Persecuting Falun Gong", "Justice to Falun Gong" and "Stop the Genocide". Although they could use buses or cars to block Jia and the Chinese delegation from seeing our banners, they could not block the practitioners' voices.
Right at that moment, the angry Chinese officials approached the police officer and applied pressure on him. The police officer came towards us and said, "No more loud shouting. Otherwise, I will need to move you to a place where they can't hear." Rather than waiting for practitioners to talk to the police officer, a Spanish man who had heard the truth about Falun Gong from the practitioners earlier came towards the police officer and said in a solemn tone, "Do you know what you are doing? You are helping the evil. These peaceful protestors have been persecuted. The people who have committed wrongdoing are over there (pointing his finger to Jia). They are the ones that you need to watch out for." The police officer backed away and kept silent. Before long, the police cars moved away slowly and practitioners could see the motorcade of the Chinese delegation. There were about one hundred people in the delegation accommodated in four tour buses. Many of them had not seen the banners. Behind the windows, the Chinese delegates were listening carefully. Some of them even smiled or waved their hands to us.
(to be continued)
Source http://www.clearharmony.net/articles/200410/22484.html