Belgium: Promoting Falun Gong at the Hasselt Health Fair (Photos)
(Clearwisdom.net) On the second weekend in October, Belgian Falun Gong practitioners took part in the Hasselt Health Fair, which was attended by many people and a big success. Almost every visitor came to the Falun Gong stall or received a flyer. Children all over the exhibition hall were carrying "Falun Dafa is Good" balloons and paper lotus flowers made by practitioners.
Many people were very interested in learning Falun Dafa and took details of the local practice site where they can learn the exercises for free. A lady who ran a stall right next to Falun Gong practitioners was impressed by how friendly and kind they were. She said in the twenty years she has been participating in health fairs, she had never met such a group of kind-hearted people. The practitioners told her that this is from practicing Falun Dafa and striving to follow the practice's guiding principles of Truthfulness, Compassion, Forbearance.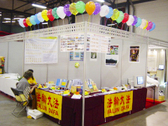 The Falun Gong stall
Many people came to find out more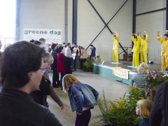 Exercise demonstration
Source: http://clearharmony.net/articles/200410/22452.html