Canadian Resident's Mother and Sister Unlawfully Detained in China (Photo)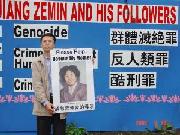 (Clearwisdom.net) I am Zhang Chunyu, a resident of Vancouver. I kindly ask for all to hear my urgent appeal that I hereby send out to help rescue both my mother and sister!
My sixty year-old mother is called Yang Huizhen, and my older sister, Zhang Chungang is aged thirty-two. Both are residents of Dandong City of Liaoning Province in China.
At about 7 p.m. on May 24, 2004, more than ten police officers led by Yu Deqing and Cao Yujia from the Political and Judiciary Section of the Public Security Department of Dandong City, broke into my mother's house, abducted her and ransacked her home. My mother did not yield to the violent action and along the way, she shouted loudly "Falun Dafa hao!" (Falun Dafa is good!). At around ten o'clock that night, the same police officers also broke into my elder sister's house and abducted her as well. My bed-ridden father was left in the house by himself during this time. Although my sister was released on bail, my mother is still been detained at the Baifang Detention Center in Dandong City. My father and my sister were denied their legal right to visit my mother.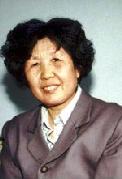 Zhang Chunyu's mother Yang Huizhen
More details of the story follow below:
My mother is a doctor. She retired, and in 1994 established a private clinic. After she commenced practicing Falun Gong in 1997, her spirit and health improved tremendously. After she had practiced Falun Gong for just a few months she recovered from her stubborn illnesses of arthritis, weak kidneys and heart disease among others. Since she started to practice she strictly conformed to the principles of "Zhen, Shan and Ren" (Truthfulness, Compassion and Tolerance) in every way. She treated her patients in a sincere manner, and was very considerate and astute in finding the cheapest yet most effective treatment. Many of the patients treated her as one of the family. Over the past ten years, she became the first choice or the sole doctor of many patients. She always found ways and means to reduce the cost for her patients. Over those ten years, there were countless patients that received free treatment. Indeed, it is very difficult to know just how many.
Since July of 1999 when the persecution of Falun Gong began, my mother was illegally detained on three occasions. The Public Security Department conspired to send her to brainwashing sessions, but she resisted all such attempts. On the 30th of November 1999, simply for practicing the Falun Gong exercises in the open, my mother was arrested by police officers from the Zhenxing District Branch Office of the Public Security Department, Dandong City, and detained at the Dandong City Detention Center for a month. On February 22, 2000, my mother was watching the flag raising ceremony at Tiananmen Square when plainclothes public security police officers discovered that she was a Falun Gong practitioner. She was arrested and sent back to Dandong City with the addition of having two thousand yuan extorted from her. She was detained for a month and twelve days during which time she was forced to carry out manual labor and was denied the right of visitation by family members. Since May 24, 2004, she was again detained without any lawful reason. She was once again forced to carry out manual labor, and denied the right of visitation by family members.
On these three occasions when my mother was detained, her spirit and health deteriorated immensely. She was forced to close the clinic. Her normal livelihood was greatly affected.
On the occasions my mother was detained, the patients were deprived emergency medical treatment. They said, "We only have faith in Doctor Yang!"
Because my mother was illegally detained, my father became very stressed. The Public Security Department would not release my mother and did not allow us to visit her. Under the great mental pressure, the past illnesses of my father recurred and his lung cancer developed. On August 18, 2004, my father passed away. My mother never had the chance to see my father before he died. After his cremation on August 20, my sister was again abducted. On August 23, she was sent to the Masanjia Forced Labor Camp. Her present whereabouts is unknown.
The suppression of Falun Gong by the former Chinese President and dictator, Jiang Zemin, and his faction, has severely violated the Constitution of the People's Republic of China that bestows upon its citizens the freedom of belief and freedom of speech. Not only are they guilty for the above, but they have also severely violated the Convention of the Universal Declaration of Human Rights of the United Nations. They have brazenly trampled on such basic human rights, and the United Nations Charter of Human Rights.
I appeal to the Government of Canada and the governments of the countries worldwide, the United Nations, every human rights organization and all people to please express your voice of justice to help curb the ongoing tragic, inhuman and unlawful persecution of those who practice Falun Gong and the citizens of China. I strongly believe that if the good people in the world could all stand together righteously, it would lead to the total annihilation of such evil acts.
Please lend a helping hand, and air your voice of justice!
Canadian resident: Zhang Chunyu
August 8
Telephone numbers of Related Units and Persons
Dandong Detention Center: 86-415-6163157
Detention Unit: Dandong City Public Security Department First Division Section Leader 2123433; Section Leader Li Xueyi (86-415-2103279 old number); Deputy Leader Cao Yujia 86-415-2103282; Deputy Leader Yu Deqing: 86-415-3153837
Dandong Public Security Department Director: 86-415-2127086
Dandong Zhenxing District Station former Police Station: 86-415-2128855
Dandong "610 Office:" 86-415-2128610; Officer in charge: Gaoping Cengwu: 86-415-2853955 (Home)
Dandong Related Units and Responsible Persons:
Dandong Acting Mayor Chen Tiexin; Mayor Jiang Zuoyong 86-415-2139028; 86-415-2126041
Deputy Mayor Chen Mingyue 86-415-2126903; 86-415-2123734
City Committee member Guan Yongguang: 86-415-2124991
City Committee member Shan Zhiying 86-415-2125837
Dandong Public Security Department Switchboard: 86-415-2125655; Director 2127086; Director Wang Baozhi; Director (?) Lin Lubo Office 86-415-2103219; Director Public line: 86-415-2123001; Enforcement Police Detachment Office: 86-415-2103359; Public Order Detachment: 86-415-2103179, Political Affairs Section: 86-415-2103181
Dandong Political and Judiciary Committee Secretary: Wan Baozhi 86-415-2164000 (Office) 86-415-2125851 (Fax) 86-415-2127550
Dandong City Political and Judiciary Committee Deputy Secretary: Wu Huimin, LiuWenbo 86-415-2123536
Dandong Public Security Bureau at Zhenxing District Branch, Office Director: Yang Jinxiu 86-415-3148301
Zhenxing District former Police Station: 86-415-2128855
Dandong City Qidao Police Station Director: Dai Xingguo 86-415-2183567