Remembering Dafa Practitioner Ms. Zhao Jing, Murdered by Police at the Age of 19
(Clearwisdom.net) November 25, 2003 was the third anniversary of the death of Ms. Zhao Jing, a Jilin City Dafa practitioner who was tortured to death at the young age of 19.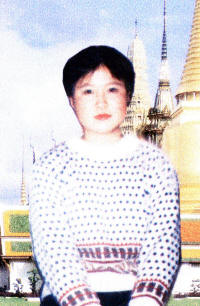 Zhao Jing's Photo
It has been three years since she was murdered. I still remember when I first met her in Beijing on October 2, 2000. She struck me as a pure, kind, petite young girl. I had witnessed her pure belief in Teacher. For several days, we each carried a bag of Falun Dafa truth clarifying materials on our backs. Teams of two distributed these materials together. Each team traveled the many streets of Beijing and clarified the truth about Falun Dafa to each Beijing resident they encountered. At the end of a day, the practitioner who was working with me still had some truth-clarification materials left in her bag. When Ms. Zhao Jing saw the remaining materials, she became very anxious and said, "No, we must distribute all the remaining materials today. There are countless people awaiting salvation!" Upon seeing her reaction, my teammate and I were both struck with a deep sense of shame.
At bedtime the female practitioners lay in bed sharing their experiences distributing the truth-clarification materials. Zhao Jing said, "There are so many tall apartment buildings in Beijing. A male practitioner a few years older and I have climbed up and down so many tall buildings that we have stopped counting. A lot of people read the material, but they pointed at me and told others that they got the material from me. I wasn't afraid at all when they identified me as the distributor. I thought I was doing the most wonderful thing in the world for the sake of their future, so I believe nothing bad could happen to me." Later the male practitioner working with her told her, "I was afraid of being caught by the police when I first started to distribute the materials, but then your pure heart touched me and drove away my fear."
Zhao Jing said she came from a poverty-stricken family. She could not make this trip to Beijing until she had saved two to three hundred yuan [500 Yuan is the average monthly income for an urban worker in China.] from her wages working in a restaurant. It took her several months. She had seen many fellow practitioners making trips to Beijing to clarify the truth and appeal for Falun Dafa. She had wanted to go sooner, but she could not afford it. Now she had finally attained her goal. There was so much peace and compassion in her heart, and no hatred or resentment towards the depraved policemen. In comparison, my heart was sometimes filled with hatred and resentment towards the police although I may have displayed a steadfast belief in Falun Dafa in my actions to safeguard Dafa. Because of my mixed feelings, I often acted over-excited or anxious, or I would clarify the truth with an ordinary person's mentality.
Later we returned to Changchun City and Zhao Jing returned to Jilin City. Several days later we invited her to move to Changchun City and found her a job at a local pharmacy. In the following month, we spent most of our available time together. We were among a small group of younger Dafa practitioners who often went to local colleges to clarify the truth about Falun Dafa. Except Zhao Jing who now had a job, many of us were still attending college or did not have a job, so we had more time dedicated to truth-clarification work. Each day we would decide which school we would go to that day to clarify the truth. Because she had a daytime job, we felt we shouldn't interrupt her work, so we often did not tell her before we went. But each time she knew about the Fa-rectification trip afterwards, she told us gravely, "You must tell me before you are going to clarify the truth in the university. I can take a short break and join you for a while." At the time all of us were so destitute that we barely had enough to eat. Zhao Jing had a cousin in Changchun City who sometimes would bring her some delicacies. On such occasions, Zhao Jing always left them for us, and almost never enjoyed them for herself. All of us took a special liking of her. Since she was the youngest among us, we called her "our little sister practitioner."
Between October and December 2000, the number of Changchun City Dafa practitioners traveling to Beijing to appeal for Falun Dafa and clarify the truth about Falun Dafa reached an all-time high. At the end of November 2000, Zhao Jing decided to join other practitioners and went to Beijing again. This time she had no more than 300 yuan in her pocket for the trip. I would have never thought that my darling little sister practitioner would be gone forever.
On November 23, 2000, Zhao Jing and many other practitioners rented a bus that drove them from Changchun City to Beijing. On the way to Beijing, the bus was stopped at a police blockade in Yutian County in Hebei Province, which was set up with the sole purpose of preventing Dafa practitioners from traveling to Beijing. The police then started to haul the entire bus of Dafa practitioners to the Public Security Bureau's branch in Yutian County, Hebei Province. Zhao Jing deftly jumped out of bus while the policemen weren't looking, and got into a taxi instead. However, the police caught her soon afterwards before she got very far. Two days later Yutian County police nervously asked illegally incarcerated Dafa practitioners if anyone of them knew the address and the names of Zhao Jing's family. The police lied and said that she had fallen into a coma while in fact she had been murdered. The policemen also lied when they notified her next of kin. They said she suffered from some minor injuries, and hid the news of her death. Some Dafa practitioners at the scene recalled hearing a young girl's cries of anguish and dogs' barking. Some of them witnessed the policemen torturing Zhao Jing. They set German Shepherds to attack her.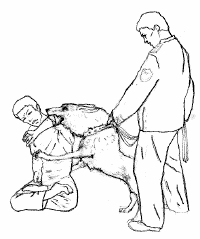 Illustration: A policeman goads a German Shepherd to attack a Dafa practitioner
In order to cover their appalling crime, Yutian County police put the rest of the practitioners on the bus into a forced labor camp, except a few elderly practitioners who did not pass the physical exam. These elderly practitioners were transported back to Changchun City. Afterwards we published the news entitled, "Zhao Jing-Female Practitioner from Jilin Beaten to Death by the Police of Yutian, Hebei Province," which revealed that the police set the dogs to bite Zhao Jing to death. However, the authorities published a deceitful news article in Changchun City's New Culture News about Zhao Jing's cause of death that claimed she jumped out of a high-speed car and killed herself. Actually, one of the police officers that murdered Zhao Jing once shamelessly declared to a Dafa practitioner, "So we did kill Zhao Jing. Why don't you sue us if you can?" We also found the driver and tried to find out the actual cause of Zhao Jing's death. He told us, "Zhao Jing died a most painful and horrific death. The German Shepherds tore her throat open."
When we received the news of Zhao Jing's death, all of us were shocked speechless. I was so shattered by the tragic news that I wasn't even able to cry and release my sadness inside. The evil in other dimensions should no longer exist -- this was a common feeling shared by all of the younger practitioners in that small circle. No matter how challenging the road may appear before us, we must persevere and be brave throughout the journey, and offer salvation to sentient beings along the way.
I hereby salute those who have lost their lives while trying to offer sentient beings salvation!
New Culture News
Web Site: http://www.xwhb.com/
E-mail: webmaster@xwhb.com
Tel: 86-431-5374355
Fax: 86-431-5388825
Address: No. 152-1 People's Avenue, Changchun City, Jilin Province, Zip Code 130022