Motorcycle Enthusiasts from Around the World Learn the Truth about the Persecution of Charles Li (Photos)
(Clearwisdom.net, September 9, 2003) Thousands of motorcycle enthusiasts from America and around the world came to Wisconsin to celebrate the 100th Anniversary of Harley-Davidson Motorcycle on the Labor Day weekend starting Aug. 28. The main activities were held on the summer fair grounds and surrounding areas by the lake in Milwaukee. Falun Gong practitioners thought it was a perfect opportunity to collect signatures to rescue Charles Li and to let the motorcycle fans know about the persecution of Falun Gong in China and in the world.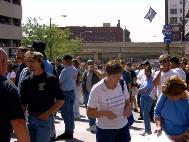 About two hundred signatures were collected. Many motorcycle enthusiasts heard about Falun Gong for the first time. One rider in a leather jacket wanted to learn the Falun Gong exercise after signing his name on the letter of appeal. He learned the first exercise "Buddha Stretching Thousand Hands" and did it very smoothly and gracefully. He told us that he felt much better in his back after doing the exercise, and he would learn the other exercises on the computer at home. His friends were all amazed.
Motorcycle fans from Germany and Portugal had heard about the persecution of Falun Gong. Many others knew about Charles Li and the Chinese government's extreme violation of human rights. A storeowner let his employees stop for a moment and sign the letter of appeal. He asked more about the situation of Charles. He told his employees that we were doing something good and they should know this.
Many people think that motorcycle fans are rude and sometimes hard to talk to. But when we did it with compassion, we found they are all sentient beings waiting to learn the truth about Falun Gong.