Maryland Gazette: Local residents fight for Chinese spiritual freedom
by Brooke Stanley
Staff Writer
June 25, 2003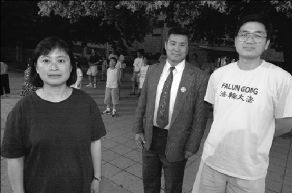 David S. Spence/The Gazette
Jingfei Jong (left), Sen Nieh (center) and Tsuwei Hwang, all of Burtonsville, practice Falun Gong, a spiritual exercise, at Julius West Middle School in Rockville.
Falun Gong
practitioners look for understanding
Practicing and studying Falun Gong in her home and also with hundreds of local residents each week isn't enough for Silver Spring resident Jingfei Jong. She is on a mission to educate people about the suffering of Falun Gong practitioners in China and about the true principles of the Chinese spiritual exercise.
Jong participated in a hunger strike relay in front of the Chinese Embassy in early June to protest the arrest and alleged torture of Charles Li, a California resident who was taken into police custody several months ago during a visit to China, allegedly for his involvement with Falun Gong.
Falun Gong has been outlawed in China since 1999[...]But Falun Gong supporters call these government claims propaganda and say that the real reason for the ban was the huge popularity of the practice and the potential power of such a large congregating group.
Jong said her hunger strike was meant to raise awareness of China's human rights violations and Li's plight. Last weekend, Jong attended a conference on Falun Gong issues in Chicago and said she has also contacted various Chinese media outlets to advertise educational press conferences about Falun Gong in the United States.
For Jong and other east county residents who are both Falun Gong practitioners and activists, knowing the strife that the spiritual movement has caused its participants abroad is ironic, given the movement's peaceful nature.
Founded on principles
Falun Gong, which translates to "law wheel practice," is a self-cultivation method that includes two basic parts. The first is the exercise, which combines meditation, extended poses and smooth, sweeping movements. The other part is the study of a text that acts as a guide to spiritual elevation. Practitioners of Falun Gong, also known as Falun Dafa, aim to uphold the principles of truthfulness, compassion and tolerance in their everyday lives.
"Every one of us would like to do our best to stop the persecutions," said Burtonsville resident Sen Nieh, who also attended last weekend's conference.
Nieh, now a professor of mechanical engineering at Catholic University, came to the United States from Taiwan in 1980. He was introduced to Falun Gong in 1997 when his interest in philosophical and religious readings led him to read "Zhuan Falun," the spiritual guidebook written by Falun Gong founder Li Hongzhi. After reading the text, Nieh said he understood for the first time how religious and philosophical principles are linked.
"The life--it's not for personal gain," he said.
Since he began practicing Falun Gong, Nieh said he has been freed from greediness and feels more fulfilled. He said the exercise reduced stress and offered relief from allergies.
Jong recounts similar benefits. Also a Taiwanese immigrant, she suffered from allergies and back pain and was having trouble sleeping when a friend told her about Falun Gong. She soon improved.
"I notice I feel my mind's open," Jong said. "I feel more relaxed." Once you take care of your mind, your physical problems begin to clear up, she said.
Silver Spring resident Tsuwei Hwang, a Taiwanese immigrant, said practicing Falun Gong relieved hypertension and stomach problems.
Hwang, a NASA scientist who was one of the organizers for the recent hunger strike, said he learned about Falun Gong in 2000 on a trip to China, where he said he saw women and children beaten for practicing Falun Gong. When he returned to the United States, he began to practice and said he could feel Falun Gong's spiritual power.
In one of his initial practices, Hwang said he was doing one of the wheel-like poses -- where the arms are positioned to form an incomplete circle -- and he felt what he described as a circular flow of energy.
"I'm a so-called scientist," Hwang said. "When I felt that, I couldn't believe it."
Hwang said the benefits Falun Gong has offered have prompted him to educate people about the practice. He said, however, that he does not necessarily aim to recruit new members.
Founded in China in 1992, the exercise was introduced in the United States a few years later. Nieh estimates that there are thousands in Montgomery County who have learned the exercise. The Washington, D.C. area has more than 10 designated practice sites.
One of those is Julius West Middle School in Rockville, where dozens of practitioners meet Friday evenings to exercise and Monday evenings to read and study related texts.
Banned in China
Though practitioners in this area congregate openly, their Chinese counterparts are not so lucky. Falun Gong was banned in China in 1999.
[...]
Though Jong, Nieh and Hwang are free to practice Falun Gong whenever they wish, they remain painfully aware that others are not so lucky. They say they are intent on doing whatever is necessary to educate people in hopes that one day, everyone in the world will be able to practice freely.
"Everybody should have the right to choose what they want -- to practice peaceful exercise," Jong said.

http://www.gazette.net/200326/silverspring/news/164629-1.html