Australia: 2nd Annual Falun Dafa Week Celebration In Toowoomba (Photos)
June 20, 2003 | By Dafa practitioners in Toowoomba, Australia
(Clearwisdom.net) June 14-20, 2003 is the 2nd Annual Falun Dafa Week in Toowoomba, Queensland, Australia. The opening ceremony was held on June 14 in the largest shopping mall in Toowoomba. Practitioners from Brisbane, Gold Coast and Sunshine Coast also came to attend the ceremony. A western practitioner made an opening speech. She briefly introduced the audience to Falun Dafa and how it has flourished around the world. Two other practitioners used their personal experience to explain the tremendous benefits Falun Dafa has brought to their health, both physically and mentally.
Practitioners sharing experiences
Practitioners demonstrated the five sets of Falun Dafa exercises to the audience, and performed a beautiful traditional Chinese dance that was warmly received. People were attracted by the beauty and peacefulness of Falun Gong; a little girl even climbed up on the stage and followed the practitioners to do the sitting mediation.
Exercise demonstration
A little girl does sitting meditation with practitioners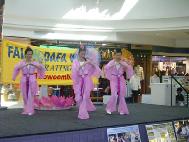 Umbrella dance
The ceremony began at 11:00 a.m. and concluded at 3:00 p.m. Many shoppers stopped and watched, and requested Dafa literature and materials. Several people were reluctant to leave, one of them, a middle school student, did not leave until the activities concluded. He said, "I'm so happy to be with you. I feel every one of you is so friendly and kind, I want to be with you."
á
A local news agency sent a reporter and cameraman to cover the activity. They were deeply touched by the peacefulness and beauty of Falun Dafa.