New York Falun Dafa Practitioners Celebrate World Falun Dafa Day with Fellow New Yorkers (Photos)
May 16, 2003 | By Dafa practitioners in New York, USA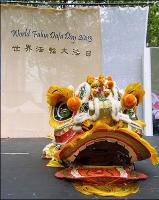 (Clearwisdom.net May 15, 2003) May 13, 2003 was the fourth World Falun Dafa Day. Affected by the atmosphere of a happy festival, New Yorkers and Falun Gong practitioners in the New York Metropolitan Area spent a cheerful day.
At noon, on Broadway near Times Square, Falun Gong practitioners in bright golden exercise suits demonstrated the gentle exercises. Festive drumbeats announced the day's celebration. New Yorkers are quite familiar with Falun Gong, and many of them know about the Jiang regime's brutal persecution of Falun Gong. but quite a few people do not know much about World Falun Dafa Day. Looking at these happy Falun Gong practitioners, passersby stopped, and people in vehicles opened their windows to accept flyers and VCDs from practitioners. After listening to practitioners' explanations, people smiled and waved, sending them good wishes.
The major celebration took place in Bryant Park on 42nd Street. Falun Gong practitioners gave a wonderful art performance, including a traditional Chinese dance performance and drama, Western practitioners' songs and poetry performance accompanied by drumbeats, professional instrumental music performances, and a chorus. During the performance, more than a dozen practitioners of different nationalities and age groups got on the stage to recount their personal experiences in cultivating Falun Dafa and the benefits Falun Dafa has brought to them both physically and mentally.
In addition to over 400 Falun Gong practitioners, many New Yorkers also joined the celebration. Some of them saw the flyers and some were attracted while passing by. Many people watched the performances from a distance in the beginning, and then took seats to watch, and finally were completely immersed in the festive atmosphere. Practitioners and local people joyfully celebrated together.
Falun Dafa Day is not just a festival of all Falun Gong practitioners around the world, but also it is a festival of all human beings in the world. People can feel from their personal experiences that Falun Dafa can genuinely bring goodness to the world, and will be accepted by all righteous people.
| | |
| --- | --- |
| | |
| Proclamations issued by government officials of different levels | During the three-hour performance, many people watched |
| | |
| Traditional Chinese costume dance performance | Peking opera attracts many people |
| | | |
| --- | --- | --- |
| | | |
| Fan Dance | Colored ribbon Dance performance | Western practitioners' band performance |
| | |
| --- | --- |
| | |
| A little practitioner greets a New York police officer | Many people learn the truth about Falun Gong |