India: Speech by Dr V. P. Vaidik, Chairman of the Council for Indian Foreign Policy at the Constitution Club in New Delhi (Photo)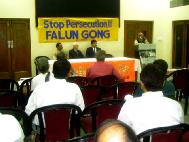 Dr. Vaidik speaking.
(Clearwisdom.net May 15, 2003) On May 7, 2003, a group of Indian VIPs met at the Constitution Club in New Delhi to discuss how to best stop the persecution of Falun Gong practitioners in China. They established a network to promote the human rights of Falun Gong practitioners and this network now includes MPs, academics, leaders of religious groups and leaders of NGOs.
At the meeting, Dr. V P Vaidik, the Chairman of the Council for Indian Foreign Policy delivered a speech. Full text of his speech is given below:
Speech by Dr Vaidik at the Constitution Club, 7 May 2003
The persecution of non-violent spiritual practices is an important issue in many countries but nowhere more so than in China. Amnesty International has said that China kills more people in three months than the rest of the world kills in three years. Every year the Jiang regime in China kills 16,000 people - 97% of all executions in the world.
The SARS issue reveals that while China lies, people die. It was only international pressure that forced China to reveal the truth about SARS. If Jiang Zemin had been truthful from the start of the epidemic last November, SARS would now be under control.
We need the same international pressure to force Jiang to stop persecuting non-violent spiritual practices in China. At the moment the regime persecutes Buddhists, Christians, Muslims, Falun Gong practitioners and many other spiritual groups.
In 1999, before the persecution, there were 100 million people practising Falun Gong in China. As I understand it, Falun Gong is a totally non-violent, non-political spiritual practice consisting of five exercises and a simple code of conduct built around the principles of Truthfulness, Compassion and Tolerance. Since Jiang Zemin banned the regime, thousands of these Falun Gong practitioners have been killed; hundreds of thousands have been put into labour camps; millions have lost their jobs and places of study. In one labour camp, the women Falun Gong practitioners were stripped naked and forced to spend the night in the cells of the male criminals. Electric shock batons are used regularly and even young babies and pregnant women have been tortured to death. Despite this intense pressure, there has not been one report of a Falun Gong practitioner retaliating or using physical force against the persecutors.
The whole force of the Government and media has been applied to stop Falun Gong. But four years later there are still people in China who are brave enough to practice Falun Gong at the risk to their lives.
As the SARS issue has revealed, if the international community is willing to speak up, the Jiang regime does change. For example, a Chinese student who studied at Trinity College in Dublin was put into a labour camp when he returned to China to see his family. Pressure from the Irish Government, including the Irish prime minister, enabled him to be rescued back to Ireland.
The Jiang regime is also exporting its persecution of spiritual practices throughout the world. It is sending its agents everywhere. For example, in Thailand last week a Swedish Falun Gong practitioner was arrested in her hotel even though she had not committed any crime. She was visiting Thailand with her husband who was working in Thailand. As the Chinese Prime Minister was visiting Thailand last week, the Thai Government decided to arrest the Swedish woman who was a Falun Gong practitioner. When the Swedish Government heard about this, they were furious and have told the Swedish woman that they will do everything to obtain her release. They are even willing to pay for her bail.
India is the home of many of the world's greatest spiritual practices and the greatness of Indian civilisation is that it can tolerate a wide range of beliefs. It is inconceivable to most Indian people that any peaceful spiritual practice should be banned and its followers persecuted. I really hope that the Indian people can promote to the rest of the world and, in particular, to China, the basic human right of freedom of belief.
Today is a historic moment. We are launching a new group called the 'Indian Friends of Falun Gong". The purpose of the group is to promote the freedom of belief of Falun Gong practitioners in China. We hope that the Indian public will take part in this group and help to stop the persecution of non-violent spiritual practices in China. We really hope that anyone who supports the freedom of belief, as most Indians must, will join this group.