Canadian Member of Parliament Presents Volunteer Award to a Western Practitioner from Ottawa (Photo)
May 12, 2003 | By Dafa practitioners in Ottawa, Canada
(Clearwisdom.net) On the evening of May 1, 2003, an Award Ceremony hosted by MP Marlene Catterall for outstanding volunteers in West Ottawa was held by the side of beautiful Britannia Lake. Falun Gong practitioner Gerry Smith was presented with the "Nurturing our hearts" award for his years of volunteer work to introduce Falun Gong in Canadian communities, and calling for an end to the brutal persecution in China.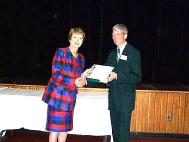 MP Marlene Catterall presents an award certificate to Falun Gong practitioner Gerry Smith
Canada ranks first in volunteerism among the countries around the world. People begin to take part in volunteer work even as young students. Schools and society encourage everyone to participate in volunteer work. There are 6,500,000 volunteers in a population of 30,000, 000.á
MP Marlene Catterall said in her speech, "Every volunteer plays an important role in the lives of those they help. The effort of volunteers is the strength that can change Canadian communities. As volunteers, our communities rely on your contributions and service. Therefore we deeply appreciate your dedication and efforts."
Volunteers who received awards today came from different age groups and professions. Over the past few years, Gerry has made great efforts to let more Canadians feel the peacefulness and beauty of Falun Dafa. At the end of June 2001, Gerry heard the news that 15 Female Falun Gong practitioners were killed in the Wanjia Forced Labor Camp in Harbin, Heilongjing Province. He gave up his vacation plan with his family and began a 300-hour sit-in outside the Chinese Embassy on July 6, 2001. Over last few years, rain or shine, Gerry has been seen on the lawn in front of the Chinese Embassy and on Parliament Hill to introduce Canadians to Falun Dafa and to the facts about the persecution in China.
In his speech, Gerry said, "Falun Dafa came from China and has taken root in Canada. Many people of different nationalities practice Falun Gong. Falun Gong practitioners' services to communities are all voluntary. This honor I've earned today is actually given to all other Falun Gong volunteers who silently make contributions."á
Gerry also expressed that though Falun Gong practitioners in China are subjected to suppression and persecution, he believed that Falun Gong has become more and more welcome and recognized by people of the world, all this will change China's policy on Falun Gong in near future.