Central News Agency (Taiwan): SARS Strikes Beijing, Citizens Are In a Panic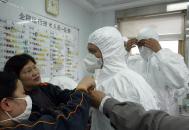 On April 17, a "completely armed" western reporter is ready to enter an isolated ward at Beijing's Ditan Hospital to conduct an interview (AFP)
(Clearwisdom.net) (Central News Agency in Taipei on April 17) Under the shadow of SARS (Severe Acute Respiratory Syndrome), May Day Golden Week holidays, which used to be full of business opportunities, are suffering from an intense impact. Beijing's "May Day Golden Week" is facing an embarrassing situation: people have no places to go for fun, and businessmen are not able to make money.
Hong Kong Sing Tao Daily is reporting that because of fear of the deadly SARS epidemic, in addition to singers Zhao Chuan and Lin Yilian postponing their concerts, a large vocal concert for the public by singers from Hong Kong and Taiwan, which included Zhou Lunjie and Sun Yanzi, may also be canceled. During the Golden Week in early May, Beijingers truly "have no drama to enjoy."
The report points out that as May Day Golden Week draws near, SARS is showing no signs of regressing. Chinese Prime Minister Wen Jiabao has officially declared they will have a tough fight, and the Chinese people have entered a state of "All people are soldiers;" yet SARS is still having a great impact on Beijing. There is often news of someone being infected with SARS from Beijing. After some customers and employees at Beijing Yingke Center caught the disease the other day, people in a building near Zhichunli in Zhongguancun also became infected. At the same time, students in primary schools, middle schools and high schools from the south to the north of the city were successively found to be infected with SARS and classes had to be suspended.
The Beijing Travel Bureau recently conducted an investigation of local hotels, and discovered that since March, hotel occupancy rates have seriously declined. A large number of tour groups have canceled their trips to Beijing. SARS has caused the country to "to stop all foreign contact" and people are in a panic. Both international conferences and general mass activities had to be canceled, causing a severe blow to the general development of the Chinese economy.