Overseas Falun Gong Family Rescue Effort Allows Aeronautics Scientist Ms. Yang Yueli to Gain Early Release (Photo)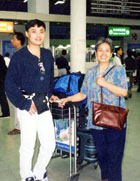 Ms. Yang Yueli and her son, Mr. Yang Zhendong
(Clearwisdom.net) Former senior engineer from China's Aeronautics Ministry, Ms. Yang Yueli, mother of Toronto resident, Mr. Yang Zhendong, had been imprisoned in a Beijing Forced Labor Camp because of her practice of Falun Gong. On February 6, 2003, she was released four months ahead of her term.
This is the eighth story about family members of overseas practitioners being rescued or gaining early release since the global rescue campaign began in July 2002. The Canadian government's strenuous efforts helped make six of these rescue cases successful. Clearwisdom Net, Voice of America, Radio Free Asia, Radio France International and Epoch Times reported on the efforts and appeals for rescuing Ms. Yang.
Yang Yueli's son, Mr. Yang Zhendong, a Canadian permanent resident and financial analyst in Toronto, obtained this good news when he phoned his mother's friend in China on the morning of February 6. He was pleasantly surprised and had a more than 20 minute phone conversation with his mother.
"From my mom's voice, she is in a very good state of mind. She asked me to express her gratitude to all the people who helped rescue her." Ms. Yang Yueli told her son that the overseas rescue effort has a great effect on the labor camp. For example, after Clearwisdom Net and other media published reports regarding the attempts to rescue her, leaders of the labor camp went to see her and they felt extremely afraid.
Yang Zhendong said, "I thank all overseas Falun Gong practitioners and the Global Mission to Rescue Persecuted Falun Gong Practitioners for their great effort. I also appreciate the Canadian government's attention to this case and diplomatic support. Consensus from abroad and pressure from the international community played a critical role in my mother's early release."
According to Yang Zhendong, Ms. Yang is now 63 years old. She graduated from Northwestern Polytechnic University. In the 1960s, she was one of four young scientists nominated by Qian Xuesen, the foremost scientist in China and the Director of China's National Science Committee, to participate in the research and launch of China's first satellite, "Dong Fang Hong". In the 1980s, she received awards from the National Defense Council for her outstanding contribution in research and launch of the "Long March 3" rocket.
On December 7, 2001, she was arrested while applying for a passport to come to Canada to join her son, because she refused to renounce her belief in Falun Gong. She was first detained in Beijing's Dongcheng Detention Center. Forty one days later, she was sentenced to one and a half years of forced labor without a trial. She was sent to Tuanhe Forced Labor Camp. Three months later, she was transferred to the Beijing Women "Re-education through Labor" Camp. Mr. Yang Zhendong said, "The Chinese police did not provide any legal documents. There were more than four months that no information about my mother was made available. We were not allowed to visit my mother, nor were we allowed to send her any daily necessities. We had no way to verify whether my mother was still alive."
Yang Zhendong said that his mother started practicing Falun Gong in 1996. Cultivating Falun Gong allowed her to get rid of various ailments she had been suffering from and let her regain her health and energy. She could not understand why the Jiang regime would persecute Falun Gong. After carefully thinking it through, she chose to persist in her practice and tried to tell people what Falun Gong is really about. Unfortunately, because she would not renounce her belief, she was imprisoned.
Overseas Family Member Rescue Effort
Zhendong said that after his mother was imprisoned, overseas Falun Gong practitioners, the Canadian government, Minister of Foreign Affairs, parliament members, the Canadian Embassy in Beijing, some non-government organizations and other individuals all took actions to rescue her.
In May 2002, Mr. Yang Zhendong received a letter from the Canadian Minister of Foreign Affairs who expressed his attention to this case and instructed the Canadian Embassy in Beijing to negotiate with the Beijing local government.
In July 2002, a global Falun Gong family member rescue campaign was launched, and a favorable turn occurred. Media reports from Voice of America, Radio Free Asia, Radio France International and Clearwisdom Net kindled strong reaction from the international community, and also made the persecutors in China feel shocked and afraid.
The labor camp where Ms. Yang Yueli was detained started registering those Falun Gong practitioners who are senior intellectuals or who have overseas relatives. His mother was sent to an air-conditioned place. This was unprecedented under the general situation in which Falun Gong practitioners have been subjected to long periods of brainwashing, as well as physical and mental tortures. Other Falun Gong practitioners in the labor camp also received improved treatment.
According to a VOA report on August 25, 2002, the Canadian Minister of Foreign Affairs, Mr. Graham, brought forth the Falun Gong issue to the Chinese Foreign Minister, Tang Jiaxuan at the meeting of foreign ministers from eastern allied countries. In October 2002, the Canadian Parliament unanimously passed a resolution regarding rescuing 13 Canadian Falun Gong practitioners' family members including Ms. Yang Yueli. When the New Year of 2003 approached, the Canadian Embassy in Beijing sent a greeting card to Ms. Yang.
Further Efforts Are Still Needed in Rescue Movement
Spokesperson of the Global Mission to Rescue Persecuted Falun Gong Practitioners, Ms. Jin Cong said that the global rescue movement is far from over. Recently, a 71-year-old Hong Kong resident, Falun Gong practitioner, Mr. Chen Rongyuan was wrongfully sentenced to 7 years in jail by the Myanmar government under pressure from the Jiang regime. US citizen Mr. Charles Li was unreasonably arrested in China simply because he is a practitioner of Falun Gong. These facts indicate that the persecution of Falun Gong is still going on and the persecution is also extending overseas. In face of this fact, governments from all countries and kind-hearted people have the responsibility to further call upon the Chinese leaders to stop the persecution of Falun Gong and unconditionally release all jailed Falun Gong practitioners.