USA: Introducing Falun Dafa at a University of Nebraska Multicultural Fair (Photos)
November 30, 2003 | By a Western practitioner
(Clearwisdom.net)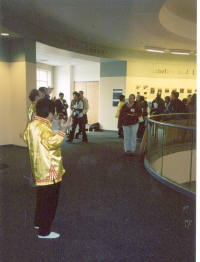 A multicultural fair at the University of Nebraska, Lincoln, provided local practitioners with an opportunity to share Falun Dafa with the public, and to inform them about its ongoing suppression in Mainland China. On Saturday, November 8, 2003, five practitioners participated in the Nebraska International Multicultural Exchange Program (NIMEC), now in its third year, which was held in the Student Union building on the Lincoln campus. Our involvement was twofold: in the morning, we presented a seminar (power point slides plus video clips) about Falun Dafa and its persecution; in the afternoon, we held a poster exhibition.
We were amazed to find that most of the student volunteers running the program were asian, and more than 60 % of all the sessions dealt with the Far East, in particular, with China, Japan, India, and Malaysia.
During the afternoon session, we had enough time to perform all five exercises in full. Especially during the hour-long meditation, we seemed to generate an oasis of peace amidst the hubbub and buzz of the various exhibits. Visitors to our display table took almost one hundred CDs about Falun Dafa. Many visitors also stopped to snap pictures of us performing the exercises. At the end, one of the organizers complimented us on the gracefulness of the exercise movements. It was altogether a warm and positive experience.