The Ledger, Florida: Winter Haven Couple Practices Ancient Art Of Falun Gong, Which Is Forbidden in China
October 18, 2003
By Cary McMullen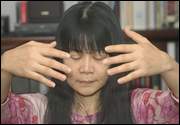 MICHAEL WILSON/THE LEDGER
[photo caption] Paulene Jasurek, along with her husband, Chris, is a practitioner of Falun Gong, the discipline that combines physical and spiritual exercises.
As traditional Chinese music plays softly on the stereo, Chris and Paulene Jasurek stand erect, close their eyes and begin the exercise known as Buddha Showing a Thousand Hands. They hold their hands together at waist level, then raise them slowly and suddenly thrust them upward, palms facing the sky, their bodies rigid. Then they relax, bringing their hands down to waist level, fingers pointing down.
They move seamlessly into other exercises with names such as Golden Monkey Splitting Its Body and Two Dragons Diving Into the Sea. The exercises alternate between controlled movements, stretching the hands and arms, and prolonged periods where they are motionless, holding a posture for several minutes. All the while, the Jasureks' faces are still and serene.
This is Falun Gong, the discipline that combines physical and spiritual exercises, and the Jasureks are perhaps its only practitioners in Polk County. Watching them as they move through the exercises, there is no hint why the government of the People's Republic of China so fears Falun Gong that its practitioners are harassed, arrested, tortured and killed.
"We feel it is a system to cultivate the mind, body and spirit," Chris says.
In Chinese, "falun" means "law wheel" and "gong" means practice or cultivation. It is sometimes called Falun Dafa, with "dafa" meaning "great way."
[...] Falun Gong is not a religion but a philosophy of life that physical exercise and meditation prompts individuals to examine themselves and strive to adopt the principles of truth, compassion and tolerance. The exercises bear a resemblance to the Chinese martial art of t'ai chi ch'uan, used by many in the East and West as a form of exercise, but Chris says t'ai chi does not teach inner truths.
"Falun Gong treats movement as a preliminary step. If you don't develop your inner nature, all you're going to do is be healthy. Falun Gong emphasizes that every time you're in conflict, you should figure out why. If you don't repair your inner self, what you do with your body is not that important," he says.
Followers of Falun Gong say it is a very ancient practice, but it was first taught publicly in the early 1990s by Li Hongzhi in China and it caught on quickly. In the six or seven years it was taught openly, as many as 100 million people in China practiced Falun Gong, Chris says.
SEEKING SPIRITUALITY
The Jasureks of Winter Haven have been married about 16 months.[...]
They met at a Falun Gong practice group in Kissimmee, and they arrived at that point only after long years of spiritual seeking.
"I felt there was some wisdom or knowledge no one was telling me how to get. In Falun Gong, you have to get it yourself, but it's given me the tools with which to do the work," Chris says.
[...]
"I had been interested in spiritual growth, in Oriental philosophy and martial arts for a long time. I found a t'ai chi master . . . and a few months after I started practicing with him, he turned to Falun Gong after 20 years of practicing t'ai chi. He told me, 'It's a step above. Try it.' " Now, Chris says, "This feels to me like what I'm supposed to be doing."
Paulene's search took many turns. She was raised in Taiwan in a Catholic family, but while in her 20s she began trying other faiths. Touched by the diligence of the Mormons, she became a Mormon. While attending pharmacy school in New York, she was impressed by the humility of Muslims and tried Islam. But, she says, she wasn't happy.
Then her sister gave her a copy of Li's book, "Falun Gong."
"I couldn't put it down. I said, 'This is what I've been searching for,' " she says.
PEACE AND TOLERANCE
The Jasureks say that Falun Gong is ultimately a way of finding inner peace. Paulene says the stressful nature of her work used to make her angry and she had trouble sleeping. That has changed since she began practicing Falun Gong, she says.
"I found it was a very good chance to practice what I learned, how to be tolerant, how to be truthful, that everything that happens has its reason. Once I was happy, I didn't need a sleeping pill. I found peace," she says.
Chris says the meditation allows for self-discovery.
"You think, 'Ah, this is the flower of something rooted way down.' It develops the strength of your will and gives you the energy you need to change things," he says.
Like many Falun Gong practitioners, the Jasureks are activists, educating others about the persecution inflicted on their fellow practitioners. They traveled to Washington, D.C., in July to participate in a mass demonstration marking the fourth anniversary of the outbreak of the Chinese government's crackdown. And last year Chris even traveled to Beijing to join about 100 other Westerners in an attempt to demonstrate in Tiananmen Square, but wary police stopped them before they got started.
"We never even got our banners unfurled. Some of us were beaten. We were detained for 22 hours and put on the first flight out. I ended up in Detroit with no connecting ticket and half my luggage missing," Chris says.
Despite the danger, Falun Gong practitioners continue to protest, even inside China. The Jasureks say the Chinese government clearly underestimated the reaction inside and outside China, because they did not understand the effect Falun Gong has on its practitioners.
"I think people under communism don't believe in God or spiritual things, to understand why we're here. People go to protests, or they practice. They could be arrested, their families taken away, but they do it anyway," Paulene says. "Once you find something to help you understand why you came to earth, that will stay with you. You can't take that away."
Cary McMullen can be reached via e-mail at cary.mcmullen@the ledger.com or by calling 863-802-7509.
http://www.theledger.com/apps/pbcs.dll/artikkel?SearchID=73151142781817&Avis=LL&Dato=20031018&Kategori=NEWS&Lopenr=310180315&Ref=AR