Germany: SOS -- Bicycle Journey from Heidelberg to Bonn: Strive Together to Rescue Xiong Wei (Part I)
September 04, 2002 | By Dafa Practitioners in Heidelberg
(Clearwisdom.net) August 13, 2002
Prior to summer vacation, my sister and I planned that we should do something on our vacation to help those who are persecuted, abused, tortured and even murdered for practicing Falun Gong in China. Our activities should lead us to meet more people and raise their concern about the plight.
Since the persecution began, I have often thought of a Chinese fellow practitioner who once came to visit our family in 1998. Early this year, we learned that a former Berlin University student named Xiong Wei was illegally detained. From the name, I didn't think much. When we opened our album, we recognized Xiong Wei from a photo. She was that Chinese girl who spoke German quite well. It was she who helped us to overcome the language difficulty while communicating between German practitioners and Chinese practitioners. Later, she became a popular guest of our family. Now we know that Xiong Wei, like many other Falun Gong cultivators, is detained in a forced labor camp. That is to say, she is likely to be subjected to physical and mental torture.
Hence, my two sisters, a friend from Pirmasens and I began a bicycle journey. We told people we met on our journey about the plight of Xiong Wei, requesting them to extend their support to secure her release. We wanted to directly visit mayors of cities we passed by, or maybe politicians, but first we should visit the newsrooms of newspapers. After we made an appointment with Ms. Vogel, councilor of Heidelberg City, we thought we should do more. We did not know when the various city halls opened, at what time and which city we would reach, or where to spend the night.
The first meet by chance--- probably not accidental--- deeply inspired us. When we arrived in the first city, and had a conversation with an older gentleman in front of the city hall that had been closed, another gentleman happened to come out of the city hall. It seemed that he was interested to know what us four girls on bicycles intended to do with our conspicuous signs. While in conversation, we found that he was the mayor. He was very friendly, and signed our petition to the German government. In the petition, we call upon the German government to help release Xiong Wei and try their best to stop the persecution against other Falun Gong practitioners.
It rained heavily on our way to the first place we would spend the night, and we were all drenched. This was a youth hostel, and some Chinese people were staying there. We told them why we were traveling. We prepared a "Travel Journal," and in it wrote: "Strive together to release Xiong Wei." Whoever supported us could sign it.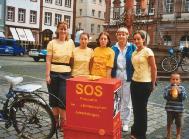 "I hope this activity will go smoothly, and win more people's concerns and support for the petition. I hope Xiong Wei will be filled with strength, and hope she can be encouraged from this activity. My biggest wish is that she can soon obtain her freedom." (Heidelberg City councilor)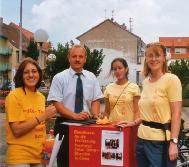 "I wish you great success on your journey from Heidelberg to Bonn. Your endeavor for human rights and for your Chinese friend absolutely should receive support and praise. I hope your friend Xiong Wei can soon obtain her freedom." (Mayor of Edingen-Neckarhausen)