BBC Chinese Net: Falun Gong Is Rapidly Gaining Popularity in Israel (Photo)
(Clearwisdom.net)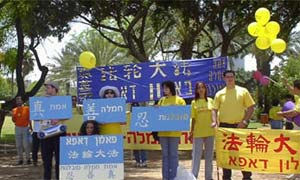 In the parks of Tel Aviv, Haifa and some other big cities, groups of people can be seen everywhere practicing the Falun Gong exercises
According to the BBC Chinese special correspondent Guo Lin in Jerusalem, since 1999 when the Falun Gong organization was banned in China, Falun Gong practitioners there can no longer "legally" practice the exercises. However, it has been rapidly spread overseas, including the Middle East area where the flames of war are in abundance.
The report said, in Israel, over 400 people have begun to freely practice Falun Gong here over the last several years. In the parks of Tel Aviv, Haifa and other big cities, groups of people can be seen everywhere practicing the exercises, and almost all of them are of non-Chinese descent. For a small country with a population of approximately six million, the rate of Falun Gong's growth in popularity here is astonishing.
The report said, "upgrading morality" "improving xinxing"[the nature of the mind or the heart; moral character] and "healing illnesses and keeping fit" in Falun Gong seem not to be in conflict with the Gods in the three big religions. Israelis warmly embrace the teachings in Falun Gong just as they accepted taichi and Chinese martial arts.
The Falun Gong Exercise Instruction video Hebrew translation states that Falun Gong is a treasure in the heritage of Chinese culture with a history of several thousand years.
A 26-year-old computer engineer from Tel Aviv started to practice Falun Gong one year ago. He has successfully quit smoking.
He said Falun Gong can cultivate one's mind, reaching the state of selflessness and altruism, and ultimately achieving the goal of healing illnesses, becoming healthier and kinder.
The report comments that Falun Gong is widespread overseas. Amidst the Falun Gong practitioners in Israel, most of them are engaged in high tech. The rationality involved in their choice of practicing Falun Gong forms a sharp contrast with the common belief in China that Falun Gong practitioners are all superstitious.
A female practitioner who is engaged in news work insisted that no such a practice can guarantee that all practitioners can live longer and remain always young, but people practicing Falun Gong are able to improve their health to the utmost. The rate of injury, illness and death is greatly reduced.
She stated that the Chinese official announcement of the death rate of Falun Gong practitioners is much lower than the ordinary people's average natural death rate. It is this way in China, as it is in Israel.
The report said that Falun Gong's computer web network is widespread. The core book of Falun Gong, Zhuan Falun, is also translated into many languages. In Israel, Falun Gong practitioners have established their own website, and paid out of their own pockets to print different kinds of promoting material.
Mr. Cheng, who is engaged in computer high tech work in Israel, is one of the minority of Chinese descent who practices Falun Gong in Israel. He insisted that Falun Gong emphasizes solid cultivation, but not formality. Any person can download the books freely from the Falun Gong websites, and all practice sites offer free instructions. The truth is quite contrary to the slanderous statements made by Chinese government propaganda.