AP: Falun Gong Faces Hong Kong Trial
June 18, 2002 | By VERNA YU, Associated Press Writer
Mon Jun 17, 1:44 PM ET
HONG KONG (AP) - Sixteen Falun Gong practitioners went on trial Monday in a case that has raised concern Hong Kong is slowly squeezing the freedoms it promised to uphold when it reverted to Chinese rule five years ago.
The criminal case is the first in the former British colony against [practitioners] of the spiritual [group] characterized by its slow-motion exercises and doctrines drawn from oriental philosophy.
The 16 defendants among them four Swiss nationals were arrested March 14 outside a government building where they were protesting mainland China's treatment of the [group].
Falun Gong has said it suspects Hong Kong might be acting under pressure from Beijing to stifle the [group]'s message. But Hong Kong authorities say they were only trying to protect public order.
Although Falun Gong is banned in mainland China [...], the group remains legal in Hong Kong, where it has staged numerous protests.
[...]
In a statement read to journalists before the high-profile trial started, the defendants said they had a good case.
It is impossible to believe that "our small, polite and peaceful appeal" has run afoul of the law in a civilized society like Hong Kong, said Erich Bachmann, 40, one of the four defendants from Switzerland.
"Hong Kong, with its tradition of human rights, should be an example for human rights, law, freedom of speech and freedom of assembly and freedom of belief," Bachmann said. "China is killing so many innocent, goodhearted people. Is that right?"
Prosecutors opened their case by bringing stiffer charges against six of the defendants, accusing them of obstructing police who tried to move them away from the entrance of the Chinese government's liaison office in Hong Kong.
Three of the defendants had already been charged with that crime, which carries a maximum penalty of two years in prison. The nine are all Hong Kong Chinese.
All 16 Falun Gong [practitioners] have been charged with two counts of the lesser offense of obstructing the public, for which they could face three months in prison or a fine.
Three defendants are also accused of assaulting police officers who broke up the protest on March 14.
Rights activists have expressed fears that Hong Kong is slowly cracking down on Falun Gong and freedom of speech, even though Western-style liberties were guaranteed for at least 50 years when the territory was returned to China in 1997.
Some say something like this probably would have never happened in the colonial days.
"I think Falun Gong would have been able to operate more freely," said Lau Yuk-kai, director of Hong Kong Human Rights Monitor, a non-governmental organization.
[...]
AP: Swiss Falun Gong practitioner Erich Bachmann talks to the media outside the Western Magestrate court in Hong Kong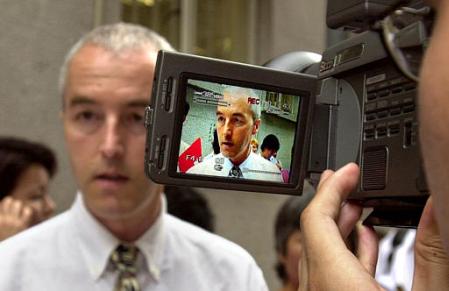 Swiss Falun Gong practitioner Erich Bachmann, 40, from the village of Kreuzlingen is seen through a reporter's video camera viewfinder as he talks to the media outside the Western Magestrate court in Hong Kong Monday, June 17, 2002 shortly before the start of a trial against him, three other Swiss [practitioners] and 12 Hong Kong Chinese [practitioners] of the [group] which is banned in mainland China but tolerated in Hong Kong. The 16 practitioners are charged with public obstruction during a protest outside the Chinese government's liaison office here. Some also face stiffer charges, obstructing and assaulting the police, in the first criminal case against Falun Gong in the territory. (AP Photo/Anat Givon)
http://story.news.yahoo.com/news?tmpl=story&u=/020617/168/1phg6.html
á
AP: Unidentified supporters wave Swiss flags as four Swiss and twelve Hong Kong Chinese Falun Gong practitioners pose for a picture
Unidentified supporters wave Swiss flags as four Swiss and twelve Hong Kong Chinese Falun Gong practitioners pose for a picture outside the Hong Kong Western Magistrate court Monday, June 17, 2002, shortly before the opening of their trial which is the first criminal case against [practitioners] of the Falun Gong movement. The 16 Falun Gong [practitioners] are charged with public obstruction during a protest outside the Chinese government's liaison office here. Some also face stiffer charges, obstructing and assaulting the police. The Swiss members are from 2nd left to right: Roland Isenschmid, 39, of Bern, Duy-Quoc Lam, 28, of the village of Zollikofen near Bern, Simone-Claudia Schlegel-Grunenfelder, 28, of Bern and Erich Bachmann, 40, from the village of Kreuzlingen in northern Switzerland. The banner reads: "Falun Dafa (another name for Falun Gong) is good." (AP Photo/Anat Givon)
http://story.news.yahoo.com/news?tmpl=story&u=/020617/168/1phgb.html
á
AP Photo: Switzerland Falun Gong practitioners hold a banner reading "Falun Gong is good" outside a magistrate court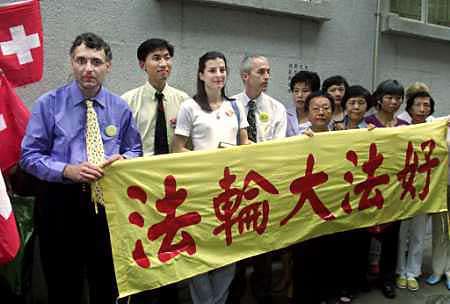 Switzerland Falun Gong practitioners (from left) Roland Isenschmid, Duy Lam, Simone Schlegel and Erich Bachmann and local [practitioners] hold a banner reading "Falun Gong is good" outside a magistrate court in Hong Kong June 17, 2002. Sixteen [practitioners], including four Swiss nationals, of the controversial spiritual movement appeared in a Hong Kong court on Monday charged with public obstruction, the first time [practitioners] of the group have been tried in the Chinese city. Photo by Kin Cheung/Reuters
http://story.news.yahoo.com/news?tmpl=story&u=/020617/170/1pfzr.html