Germany Practitioners Participate in Hanover Supernatural Expo (Photos)
May 25, 2002 | By Practitioners in Germany
Last year we participated in the Supernatural Expo, and this year we attended it again. One of the reasons is that through the successful participation in the last expo, we established a practice site in Hanover. Initially we decided that we were not going to attend this year's expo due to the high expenses and prepared to Hongfa and clarify the truth through other channels at other public places.
To our surprise, one day the organizer of the expo called us and asked whether we wanted to be part of the exposition. We first thanked his kindness and told him that we did not intend to participate this time. He asked the reason. We told him that the expenses were too high for us; otherwise we really wanted to be part of it, especially as we have established a practice site in Hanover. In the end he said, "Thanks for your sincerity. You know personally I really hope you could participate. Last year Falun Gong's exhibition was excellent. As to the fees, I could give you a discount." He not only gave us half price, but also offered us a super large exhibition booth for us demonstrate the exercises.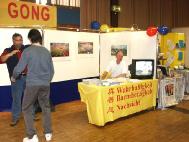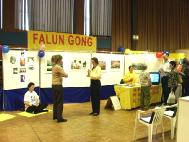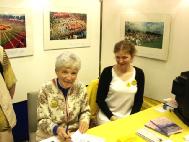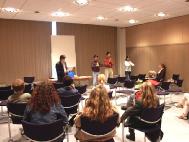 On the day of the exhibition many people visited our booth. They either watched our practice demonstration or talked to practitioners. Many of them expressed interests in learning Falun Gong.
A gentleman from India came to our booth on the first day and learned exercises. He came back later on and stayed over 3 hours at our booth. On the last day he came again and told us that he practiced outside the building and felt very good. He wanted us to demonstrate the exercise for him again.
Many people learned Dafa exercises. Others inquired where they could learn. This year we have established a practice site in Hanover. It will be convenient for them to learn the exercises. The Expo lasted three days.
The Expo offered a good opportunity to Hongfa to people since many go there to seek a holistic cultivation way.