Comics: Leifeng Day; Truth TV
Our Experience on Lei Feng Day


Download high resolution image

Panel 1: In the 1950s and 1960s, learning from Lei Feng meant helping each other and doing good deeds

Dialogue:
Young soldier: Auntie, please walk slowly
Old lady: You are so kind

Panel 2: In 1980s, learning from Lei Feng meant not doing the real deed but just putting on a show

Dialogue:
Old lady: Could anyone give me a hand?
Young man (just singing without helping): "Learning from Lei Feng, Lei Feng is a good example"

Panel 3: In 1990s, learning from Lei Feng is still a good thing, but people don't do it out of the goodness of their hearts.

Dialogue:
Woman: Today is Lei Feng Day, donate 5 Yuan to the disaster relief.
Man: I have given several times already, no more.

Panel 4. On the Lei Feng Day of 2002, people are fortunate to know the truth of Falun Gong.

Dialogue:
Man: Please come to learn the truth of Falun Gong
Woman: Oh, we have all been lied to!

Note: March 5 is Lei Feng Day in China. On this year's Lei Feng Day Changchun practitioners broadcasted the truth of Falun Gong to one million residents through the local cable network.

Truth TV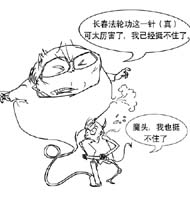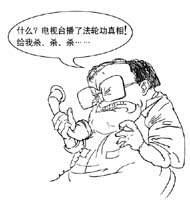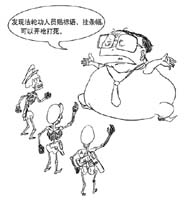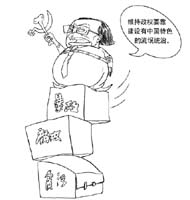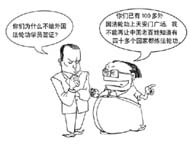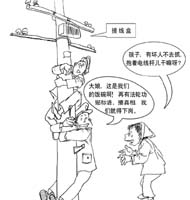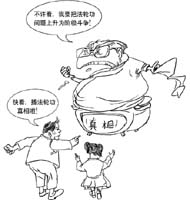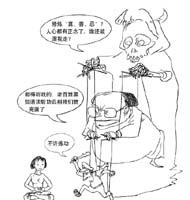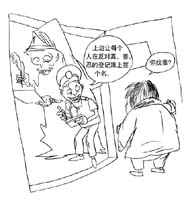 From left to right:

-- This shot by Changchun practitioners is too powerful to withstand.
--Boss, I can't hold on anymore either.

What? TV station broadcasted program on Falun Gong Truth? Kill, Kill, Kill....

If you find Falun Gong people hanging banners or putting up posters, you can shoot to kill.

Maintaining power depends on establishing China's special rulership: terrorism, corruption, bribery.

-- Why do you not issue visas to foreign Falun Gong practitioners?
- You already have over 100 foreign Falun Gong who went to Tiananmen Square. I cannot let Chinese people know that people practice Falun Gong in over 40 countries.

Young men, there are so many bad people out there, why don't you go catch them? Why are you holding onto that electric pole?
Auntie, this is our livelihood. If there are more Falun Gong posters or TV broadcasts, we will be laid off.

Quick, the Falun Gong Truth Show is starting.
You are forbidden to watch. I will escalate the Falun Gong issue to a class struggle.

(From upper to lower) - Cultivating "Zhen-Shan-Ren"? If everyone has righteous minds, who will follow me?
- All have to listen to me, if the sentient beings know the truth of Falun Gong, we are finished.
- You can't practice Falun Gong!

(The lady) Who are you looking for?


The higher authorities ask everyone to sign the book against Zhen-Shan-Ren.