Grand Parade in London Protests Jiang Regime's New Crimes of State Terrorism (Photos)
March 13, 2002 | By UK practitioners
á
On the morning of March 10, 2002 following the extremely serious developments in China, over 200 practitioners from Taiwan, Switzerland, USA, Canada, Australia, Austria, Korea, Denmark, Japan, Sweden, Belgium, Germany and many other countries gathered outside the Chinese Embassy in UK to support the magnificent feat of Changchun practitioners who broadcasted Dafa truth materials to tens of thousands of Chinese families and condemn cruel crimes of Jiang regime's order of "Kill them without mercy."
European Falun Dafa Association President Peter Jauhal, UK Upper House member Lord Moyne and European Friend of Falun Gong vice President John Dee spoke at the gathering. Several practitioners who suffered abuse in China shared their experiences. After the press conference practitioners from around the world sent forth righteous thoughts to eliminate evil and help practitioners in China. The grand parade started from the Chinese Embassy and walked toward the Prime Minister's residence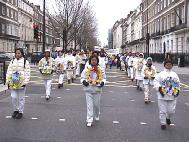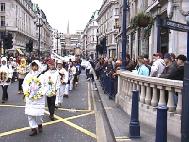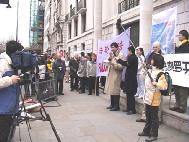 (To watch video footage of the parade: Please download video file or watch online )
Accompanied by Pu Du and Ji Shi music, the parade procession slowly drew through London streets, creating a very solemn atmosphere. Led by a large wreath bearing the Chinese character for "In Memory," female practitioners in white dresses holding the pictures of practitioners that have died in the persecution followed. Practitioners with various banners solemnly walked behind. The parade procession went through the main shopping streets of London until it reached the Prime Minister's residence, 10 Downing Street. Many residents watched the parade and received information about the situation in China.
European practitioners, including two British citizens who were persecuted in China by the Chinese police two weeks ago, delivered a letter to the office of the Prime Minister, Mr. Tony Blair. The letter asked the Prime Minister to help stop the brutal persecution in China, which has increased alarmingly in the last week with Jiang Zemin's order to "Kill them without mercy."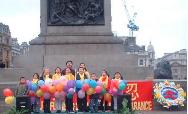 After having handed the letter in, the parade went to the most famous square in London, Trafalgar Square where a short concert was held. Practitioners sang Dafa songs. The concert concluded with a touching performance of "Falun Dafa Hao" [Falun Dafa is good] by a group of young children from 5 to 12 years old. Many tourists watched the concert and acquired Falun information. After the concert, practitioners demonstrated the five sets of exercises.
It was a very cold day, however the activities were a huge success. There were many media reports that were very supportive of the Falun Gong practitioners in China.