The People of Taiwan Have A Bright Future
The six-day Journey of Falun Dafa Photo Exhibition and concert successfully began at Taipei City Hall on February 25. MP Lin Yihua, Mayor Ma Yingjiu and the director of Citizen Affairs attended the opening ceremony and delivered speeches. In addition to praising the contribution of Falun Dafa to society, the official stated that the stability of society depends on each citizen having a compassionate heart, not on external force.
Each beautiful picture depicts the rapid spreading of Falun Gong in Taiwan, Mainland China and around the world since Master Li introduced Falun Gong to society. Big screen TV showed programs clarifying the truth of Falun Gong. Many people had the opportunity to learn the truth.
Practitioners prepared a variety of information for visitors to the exhibition, including experience sharing articles, VCDs and newspaper articles. Many practitioners contributed their time to distribute information at city hall.
A press conference was held at noon of the opening day. Prof. Zhang Qingxi of the Economy Department of the University of Taiwan and Prof. Zhang Jinhua of the Journalism Department of the University of Taiwan hosted the conference. Falun Gong practitioners Ao Manguan (M.D), Wu Huilin (Professor) and Zhu Wanqi (attorney) talked about how Falun Gong changed their lives through their own personal experience.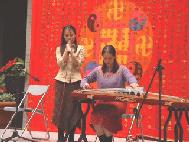 After the press conference, the concert started. Practitioners expressed their gratitude to Dafa and Master Li through music and song.
Reporters took the opportunity to interview practitioners. Practitioners believe that through the efforts of practitioners and the support of Taiwanese officials and public media, more and more Taiwanese people will join in Falun Dafa cultivation, and Dafa's magnificence will be further demonstrated in Taiwan.