Apple Daily News Report: No More Room For Silence (Photos) (Excerpt)
(Clearwisdom.net)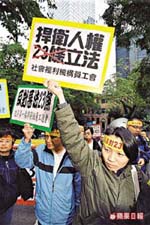 Workers' Unions Appeal in Front of Hong Kong Government in Opposition of Article 23
Apple Daily published commentary on December 14, 2002 that states, "Since the Hong Kong government proposed the consultation documents regarding Article 23 of the Basic Law in September, citizens of various social strata, professions and political backgrounds have expressed all kinds of concerns and opposing views regarding the government's proposal. However, these voices fell upon deaf ears of the high level officials of the Hong Kong government, who are not even willing to provide the citizens with a 'White Bill' consultation, which is truly disappointing and regrettable."
As stated in the commentary, "in order to avoid our children having to grow up in a place without freedom of thought and freedom of information, in order to prevent Hong Kong from becoming a silent, 'dead city,' there is no more room for silence. We hope citizens can, as soon as possible, explicitly express their concerns and fears of Article 23 of the Basic Law with various means. Maybe when the citizens walk in the street and make their voices heard with actions, the government will change its obstinate attitude."
Vicious Law Article 23, Heaven and Earth Forbid
Apple Daily December 14, 2002 news headline: "Vicious Law Article 23 Destroys Workers' Unions' Rights; Heaven and Earth Forbid!" More than 40 people representing 23 workers' unions and three workers' organizations paraded on "Black Friday," [December 13] to protest the government's enactment of Article 23 of the Basic Law.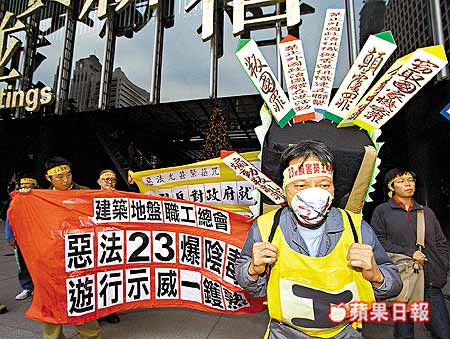 Carrying seven placards detailing crimes from Article 23 on their backs, representatives of workers' unions slowly paraded to the Hong Kong government office, protesting that Article 23 severely threatens workers' interests.
The workers' union representatives called Article 23 a deadly threat to workers' right to freely fight for their interests. They also called for the workers to attend the anti-Article 23 parade that will be held tomorrow by the Civil Human Rights Front.
Greatest Confidence Crisis Since the Handover
Apple Daily December 14, 2002 report: The Hong Kong government's insistence on enacting Article 23 of the Basic Law has triggered the greatest confidence crisis since the return of Hong Kong to Chinese sovereignty. The most recent survey conducted by the Hong Kong Transitional Period Research and Planning Committee found that after the Hong Kong government made public the consultation documents of Article 23, the worries expressed by the people of Hong Kong regarding many kinds of freedom increased greatly; among them, worries about personal freedom has increased by 10%, the same as back in 1995 before the return of Hong Kong to Chinese sovereignty. Scholars who conducted this survey warned that Article 23 has caused a new crisis for the Hong Kong government; if the government continues to ignore the people's will, they will grow more dissatisfied with the government.
Bank of Transportation Forces Workers to Support Article 23
Apple Daily December 14, 2002 report: A person who claimed to be a worker at the Bank of Transportation revealed to our paper yesterday that its branch banks distributed a document regarding Article 23 to all workers and asked them to sign it. There are six opinion-article attachments worded slightly differently but with the same theme of total support for the establishment of Article 23.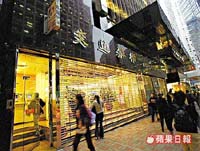 Workers from the Bank of Transportation turned to the media regarding being asked to sign documents supporting the enactment of Article 23
In order to create an atmosphere of support for Article 23 and to oppose dissenting opinion, the pro-government groups used all possible means. Yesterday we received reports from many workers at Chinese government-funded businesses and members of pro-government organizations, claiming their organizations used different methods to coerce them to support the enactment of Article 23, such as signing opinion statements. Some people said one Chinese government-funded social organization asked them to tour Victoria Garden, while in fact they were trying to occupy the place before the anti-Article 23 parade group arrived.
According to the reporters, the aforementioned documents didn't specify whether all workers have to sign it; however, in order to keep their jobs, most people dared not to ask whether they could express their own opinions. The reporter strongly condemned this behavior. He said that many of his colleagues had the same feelings, but they were forced to sign the document in support of Article 23.