Falun Dafa Forum Opens in New York (Photos)
(Clearwisdom.net) On December 5th, 2002, an open forum entitled "Falun Gong: The Price and Value of Truth" opened in the Soho area of New York City and it will continue through December.
| | |
| --- | --- |
| | |
| Danny Schechter, media expert, gives the opening talk about media, Falun Gong, and human rights. | Sam Israel, attorney and gallery proprietor, is interviewed by local media. |
The purpose of the forum is to let the community, artists, and intellectuals know more about the history of Falun Gong and to expose the persecution in China.
Danny Schechter, an award-winning journalist who has written extensively about Falun Gong, gave the opening talk. He explained how China has used propaganda to deceive its own people as well as other nations to try to gain support for the persecution. He also talked about how truthfulness and determination can naturally lead to change when the people in power are not just.
Sam Israel, proprietor and host of the gallery, also addressed the audience, and was interviewed by a local TV station. Mr. Israel is the attorney representing Friends of Falun Gong and other plaintiffs in a defamation lawsuit against two Chinese-language newspapers.
In addressing the audience, he mentioned that he was fortunate to have had the chance to learn the truth about Falun Gong, and very happy to assist with the lawsuit.
The event was covered by local media, and attended by artists, journalists, and practitioners. The audience followed up with questions about Falun Gong, the persecution in China, China's leaders, and doing business in China.
The forum will run for three weeks, and includes a photo exhibition, video screenings, and various evening presentations. A press conference is scheduled for Thursday, Dec. 12th.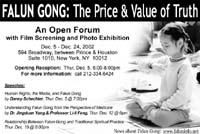 Schedule for exhibit (click on the photo). (Village Voice, page 62, Dec. 4th)