In Meeting with Practitioners, Former French Minister of Education Suggests that More People Need to Realize the True Value of Falun Gong (Photos)
(Clearwisdom.net) Former French Minister of Education Mr. Jack Lang met with Zhao Ming and other Falun Gong practitioners at the Parliament on October 1, 2002. Mr. Lang encouraged Falun Gong practitioners to persevere, and not only let people know the facts about the persecution, but also help more people realize the true value of Falun Gong. He also expressed that he would continue to strive together with Falun Gong practitioners to win more support.
The meeting took place at the Premier Bureau of the French Parliament with Falun Gong practitioner Zhao Ming, who had been illegally imprisoned and tortured for more than two years by the Jiang Zemin regime because of his belief in Falun Gong, and some other French practitioners.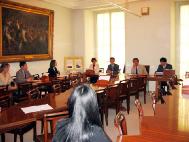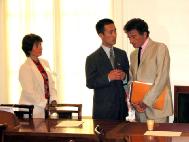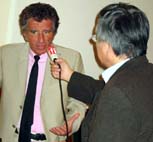 While Zhao Ming, who had been studying for his Master's degree in computer science in Ireland, was illegally imprisoned in China, French Minister of Education Lang paid special attention and called for an end to the persecution against Falun Gong, which he called "an intolerable tragedy." Under powerful pressure from the international community, the Jiang regime released Zhao Ming in March 2002.
A representative of the French Falun Dafa Association briefly introduced the tremendous benefits of Falun Gong in teaching people to be compassionate and enabling them to achieve both physical and mental health. Falun Dafa's wide spread around the world and the Jiang regime's three-year persecution against Falun Gong were also emphasized. The practitioners thanked Mr. Lang for his humanitarian effort to secure Zhao Ming's release, and they also called on all kind-hearted people in the world to strive together to immediately put an end to the persecution against Falun Gong.
Afterwards, Zhao Ming briefly talked about the inhumane persecution he had suffered and expressed his sincere gratitude to Mr. Lang for his righteous support. Zhao Ming also mentioned that hundreds of thousands of Falun Gong practitioners are presently suffering similar brutal torture in China's forced labor camps. He called on the international community to work together to stop the persecution.
A Western practitioner told Mr. Lang that Jiang's regime blatantly coerced and deceived foreign governments to persecute Falun Gong practitioners outside of China recently. The practitioner pointed out that Jiang's actions constitute a threat to the principles of democratic freedom, and should be guarded against and stopped.
Mr. Lang showed his concern for the Falun Gong practitioners who suffer persecution and expressed his sincere admiration for people in France and other places who strive hard for freedom in China and the freedom of belief. He said he would like to motivate more people to support Falun Gong.
Mr. Lang also expressed his worries that out of economic concerns, some European governments have not done their best to make countries like China respect human rights.He said he would continue his efforts together with Falun Gong practitioners.
Last summer, when a Falun Gong family, the Chi Jians' who live in Grenoble, France was under arrest in China, Mr. Lang exerted his efforts to rescue them. Today, Chi Jian was also present. Mr. Lang especially expressed his respect for the courage Zhao Ming and Chi Jian have demonstrated in their steadfast belief in Falun Gong, and praised that Falun Gong practitioners' actions also inspire people.
While conducting an interview with the French International Broadcasting Station and reporters from Taiwan Central News Agency and while having a discussion with Sinologists, Mr. Lang stated that the persecution against Falun Gong is unacceptable.