Australian Falun Gong Practitioners Participate in Queensland's Overseas Taiwanese Sports Meet (Photos)
October 06, 2002 | By Dafa Practitioners in Queensland
(Clearwisdom.net) On September 28-29, 2002, the Australian Queensland Falun Dafa Association was invited to take part in the third Overseas Taiwanese Community Sports Meet held in Brisbane, Queensland.
| | |
| --- | --- |
| | |
| Banner of Falun Dafa Association flutters with the wind | Walking into the opening ceremony site |
Early Saturday morning on September 28, before we set up the information center and finished decorating our site, some religious associations approached us to request information about the nearest practice site, materials, and raise questions.
The Queensland Falun Dafa Association coordinator was invited to take part in the presidium of the sports meet and gave a speech at the opening ceremony. When practitioners in a long double file entered the sports field, a team leader of our neighboring team acclaimed, "You Falun Gong practitioners grow so fast!"The procession followed the striking banner of the Falun Dafa Association, circling the field once. The practitioners in their high spirits held colorful balloons imprinted with words, "Falun Dafa," and their faces beamed with delight. When the procession passed by the main stage, the entire audience gave them warm applause.
During the sports meet, the practitioners gave two impromptu performances in front of the main stage. The first performance was of the peaceful and gentle five sets of Falun Gong exercises. The powerful energy field made everyone on the spot feel peaceful. One athlete, who was waiting for a match nearby, immediately expressed that he would learn Falun Gong. The other performance was young practitioners' dance "Ode of Lotus Flowers." The young practitioners, who were in their colorful clothes and holding lotus flowers, danced gracefully on the lawn, making them the focus of the audience, who gave them a round of applause.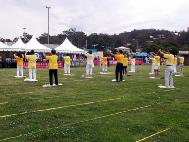 Exercise demonstration
During the two-day sports meet, with concerted efforts, the practitioners won more awards than they did last year, either in individual matches or group games.
At the closing ceremony, Queensland Falun Dafa Association was invited to join in two other celebration activities.