Two European Falun Gong practitioners completed their London -- Brussels SOS walk on Thursday, September 13 following a 12-day journey covering the UK, France and Belgium. Practitioners in all three countries joined the walk, which has been very successful in revealing the truth through the media including TV, newspapers and radio stations. They also met government officials, including mayors, and warm hearted people. After they arrived in Brussels--the final destination of the walk--they were met by Baroness Nicholson [Baroness is the female equivalent of Baron, a title of high honour], who is the Vice Chairperson of the European Parliament Committee on Foreign Affairs, Human Rights, Common Security and Defence Policy. Another member of the European Parliament and other officials in Brussels also met the walkers in person. They warmly greeted the SOS walkers and offered their firm support for the human rights of Falun Gong practitioners in China. Baroness Nicholson is a strong supporter of human rights and has in the past taken a firm stance against various human rights violations, including the abuse of psychiatry.
Day 14 (Thursday 14/9/01) Johns River to Lake Cathie
We went to the office of Mr. Robert Oakshott, MP to let him know about our Walk and its purpose. He was not in the office. We talked to his secretary who seemed to know very little about Falun Dafa, so we told her the purpose of our Walk and then asked if she had time to look at some pictures. She said that she didn' have the time as a person was waiting to be served by her. We then started to talk about our personal experiences in China, how each one of us got arrested and detained and suffered when we went to China to validate the Fa. As she was listening, she rose from her chair and stood up. The person waiting also moved over and joined our conversation. We left a message for Mr. Oakshott requesting him to vote for any resolutions concerning human rights and the Falun Dafa issue if one came up, and, if he had time, to write a letter of support for us to the Minister of Foreign Affairs asking the Australian government to uphold human rights.
Falun Dafa Practitioners in Hawaii are going on an SOS walk around the Island of Oahu in an urgent effort to draw attention to the brutal persecution of Falun Dafa practitioners in China. We will hold a press conference at 5:00 P.M. on Friday, October 5, 2001, in Honolulu, Hawaii to kick off our walk. Honolulu Practitioners will join the "SOS! Global RescueWalk," as groups in countries everywhere are walking around the world for this just and urgent cause. It is a milestone in Falun Dafa' journey of spreading truth, benevolence and peace.
~ Voices of Support Worldwide ~
~ April 25 Events ~
~ Falun Dafa in the Media ~
~ Voices of Support Worldwide ~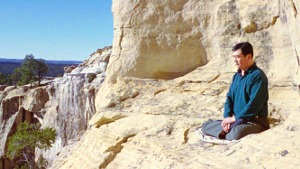 Master Li quietly watching the world from amidst the mountains after leaving New York following July 20th, 1999. (Published January 19, 2000)