This book is a collection of over 600 proclamations awarded to Falun Dafa from 1992 to 2001. The proclamations were submitted by various governments and civil organizations from the United States of America, Canada, Australia, New Zealand, China, Russia, and Japan, to name a few. These honors truly reflect kind-hearted peoples' commendation of Falun Dafa. And as more and more people around the world learn about Falun Dafa, especially about the evil persecution set in place in 1999 by Jiang Zemin's regime, their support and praise for Falun Dafa increases even more.
…
These pictures were shot in a park on the morning of September 16 when over 130 practitioners from around Japan gathered at Fukuoka to kick off the Southern Region' Across Japan SOS! Global RescueWalk to urgently rescue the practitioners persecuted in China.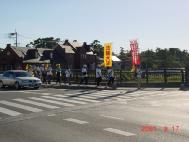 On the second day of the SOS! Global RescueWalk Across Japan, practitioners divided into several groups to clarify the truth in the cities they visited. One group went to the City Hall and submitted urgent rescue letters to city officials. Another group went to the Chinese Consulate. As soon as the practitioners arrived there, the staff members of the Consulate General locked their iron gate and refused to accept the practitioner' petition letter. The Consulate' reaction puzzled the security guards nearby, and the practitioners explained to the guards about the horrible persecution in China.
~ April 25 Events ~
~ Journeys of Cultivation ~
~ April 25 Events ~
~ Accounts of Persecution ~
~ Solemn Declarations ~
~ Standing Up for Falun Dafa ~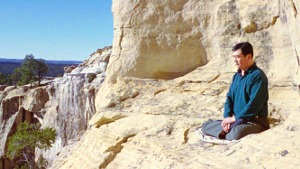 Master Li quietly watching the world from amidst the mountains after leaving New York following July 20th, 1999. (Published January 19, 2000)