(Clearwisdom.net)
Zhang Fengyun, female, was arrested while clarifying the truth about Falun Gong. She was unlawfully detained in the No. 14 Team of Xiguoyuan Detention Center in Lanzhou City for several months. She was very resolute about Dafa in the detention center and continually expressed to other practitioners her determination to prefer death over surrendering to the evil. In order to protest the illegal detention and ask for an unconditional release of all persecuted Falun Dafa practitioners, she started a hunger strike on July 28. During her hunger strike, policemen fiercely beat her. She was force-fed through a pipe inserted into her stomach on the 12th day of the hunger strike. According to other Falun Gong practitioners who saw Ms. Zhang for the last time on August 8, she was already very weak and on her last breath. On August 10, 2001, Zhang Fengyun' family received notification of her death from the police.
(Clearwisdom.net)
Yang Ruiyu, female, was a Dafa practitioner from Fuzhou City, Fujian Province. She was an employee at the Real Estate Bureau of Taijiang District, Fuzhou City. Since July 22, 1999, Yang has been doing much work for Dafa.
8:00 am, August 20, 2001
Beginning at 3:00 PM, August 17, 2001, six Falun Gong practitioners have launched a hunger strike in front of the Chinese Embassy in Washington DC. The number of practitioners on this hunger strike has risen to 10 practitioners as of now. They are from five different states in the U.S.
~ Rallies & Protests ~
~ Falun Dafa in the Media ~
~ Rallies & Protests ~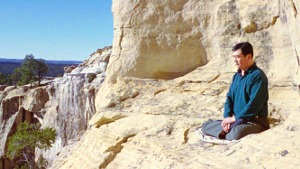 Master Li quietly watching the world from amidst the mountains after leaving New York following July 20th, 1999. (Published January 19, 2000)