Photo Report: Recent Hongfa Events in Portland, OR
Promoting Dafa at the Rose Festival (Picture 1, 2)
The Rose Festival is the biggest annual festival in Oregon. We applied for a 4-day Falun Gong exercise demonstration and took the opportunity to promote Dafa to local citizens, clarify the truth and introduce people with predestined relationships to Dafa.
Press Conference
On July 18, 2001, Portland practitioners held a press conference at the Doubletree Hotel to expose the atrocities committed by Jiang Zemins regime on Falun Gong practitioners. This is the first time that we had held a press conference in Portland. Practitioners overcame a lot of difficulties during writing invitation letters, sending invitations, updating exhibition boards, renting a conference room, and preparing for speeches. As the date for the conference neared, a western couple only slept for 3-4 hours each night. The press conference was very successful. During the preparations, every practitioner looked inward to find our own problems and improved during the Hongfa and truth-clarifying events.
Promoting Dafa at a County Fair
During July 17-20, a western practitioner rented a booth at the Multnomah County Fair. Several practitioners who did not go to the DC conference promoted Dafa at the fair for four days. We demonstrated the exercises. Interested people stopped and read our exhibition boards and happily took Dafa materials with them.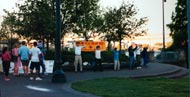 Candlelight Vigil
At dusk on July 21, we held a group practice and candlelight vigil at River Park in downtown Portland to commemorate the practitioners who had died during safeguarding and validating Dafa. Many people stopped by to look at our exhibition boards and ask for information. Some wanted to donate money to support us. When we told her that we do not accept donations, she wished all those who are as kind as us good luck.