SCMP: Falun Gong supporters rally in U.S. capital
(SCMP) Adherents of the Falun Gong spiritual movement marched through Washington on Thursday to demand international help to stop repression of the group in China, an issue which has soured U.S.-China relations.
Dear Linda:
Thank you for inviting me to participate in this important rally today. I apologize for not being able to be there personally.
Last Week, the Chinese nation exalted in pride and joyous celebration following the International Olympic Committee' selection of Beijing as the host city of the 2008 Olympics. Many view this decision as an affirmation of China' growing influence around the globe, with the Chinese nation glowing with pride after years of perceived disrespect and condemnation by the western world. The decision aroused considerable controversy because of the continued human rights abuses by the Chinese Government that includes the torture and execution of members of Falun Gong.
Dear Friends,
As you gather in Washington, D.C. this week to rally on behalf of the Falun Gong practitioners facing persecution in China, I would like to express my support for the millions of individuals yearning to practice their basic human rights.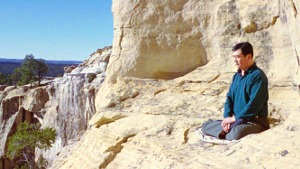 Master Li quietly watching the world from amidst the mountains after leaving New York following July 20th, 1999. (Published January 19, 2000)