An Appreciation Letter to Master Li from New Jersey Senator Edward T. O'Connor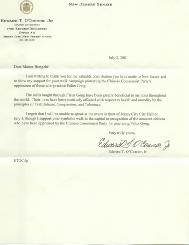 Text of letter:
Edward T. O'Connor. Jr.
Senator, 31st Distrist
1738 Kennedy Boulevard
Office # 2
Jersey City, New Jersey 07305
Dear Master Hongzhi:
I am writing to thank you for the valuable contribution you have made to New Jersey and to show my support for your walk campaign protesting the Chinese Communist Party's oppression of those who practice Falun Gong.
The skills taught through Falun Gong have been greatly beneficial to millions throughout the world. Their lives have been positively affected with respect to health and morality by the principles of Truthfulness, Compassion and Tolerance.
I regret that I will be unable to speak at the event in front of Jersey City City Hall on July 3, though I support your symbolic walk to the capital in recognition of the innocent citizens who have been oppressed by the Chinese Communist Party for practicing Falun Gong.
Very truly yours,

(Signature)

Edward T. O'Connor, Jr.