News Journal [Delaware]: March seeks help for banned Chinese [group]
July 14, 2001 | By Jessica Rae Cristo
Supporters of the Chinese spiritual group Falun Gong leave Rodney Square in Wilmington. The marchers, who began in Boston, are traveling on foot to Washington to protest Falun Gong members' treatment by Chinese authorities. The group is banned in China.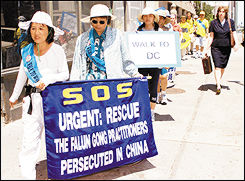 07/13/2001
Followers of Falun Gong, a modern version of an ancient Chinese philosophy, stopped in Wilmington on Thursday to voice their opposition to China's government, which outlawed their organization in 1999.
The group is walking from Boston to Washington as part of a national campaign to build support for Falun Gong and try to stop the jailings and deaths associated with the ban.
Followers of Falun Gong, also known as Falun Dafa, are estimated at about 70 million in China.
The walk "is to raise awareness of the persecution in China," said Erin Elliott, 19 of Bergen County, N.J.
Elliott is one of the members of the group of 20 walking to Washington.
She was accompanied by two Boston high school students, Mengyang Jian, 17, and Hoa Wang, 16.
The number of Falun Gong practitioners in Delaware is unknown because there is no organization that people join. Instead family and friends pass on the tradition.
Other groups are also traveling to Washington from around the country. They plan to meet on July 20, which is the two-year anniversary of the banning of Falun Gong.
The group began its walk on June 26 in Boston, and has been joined by supporters along the way.
The Chinese government in 1999 prohibited the group, calling it an [Jiang Zemin government's slanderous term omitted].
But Jian said there are no political beliefs in the practice and there is no political party associated with it.
Falun Gong "is a practice of mind and body. It benefits my heart physically and mentally," Elliot said.
Jian and Elliot said they think that China felt threatened by Falun Gong because of the number of followers.
"They misunderstood it ... it's strictly for uplifting one's self," Elliot said.
Falun Gong members spoke during the rally about the reports of recent deaths of 15 female practitioners of the philosophy in the Wanjia labor camp in China.
"There is an escalating persecution in China," said May Lin, who organized the event in Wilmington.
"This walk to Washington gives us a chance to tell the world these people's stories, and to call on people to help," said Wang.
During the walk through New Jersey, New York, Rhode Island, Connecticut, and Pennsylvania, Elliott said, "The people are really great. They see us and support what we are doing."
Letters of support from Mayor James Baker of Wilmington and Mayor James L. Hutchison Sr., of Dover were read aloud to the group.
"We have to make Washington by July 20," said Jane Chin, 72, of Bergen County, N.J.
For Chin, this trip will commemorate the day that the persecution began in China. Her mother was also persecuted because of her practice of Buddhism during the Cultural Revolution.
http://www.delawareonline.com/newsjournal/local/2001/07/13march.html