Photo Report: New Zealand Practitioners Parade in Downtown Auckland – Call for a Stop to the Brutal Persecution by Jiang Zemin's Regime on Falun Gong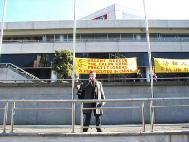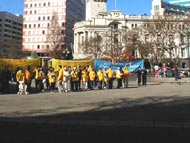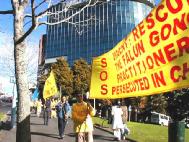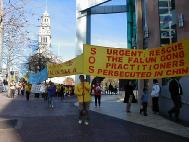 At noon on July 11, about 50 practitioners from Auckland and Hamilton paraded in downtown Auckland, the biggest city in New Zealand, and called for "SOS! Urgent: Rescue the Falun Gong Practitioners Persecuted in China." Before the parade started, practitioners held a brief press conference in Aotea Square.
The parade lasted for an hour and 40 minutes. During this time, New Zealand National TV Station and a Chinese newspaper conducted interviews. After the parade, practitioners gathered outside the Chinese Consulate in Auckland and continued their appeal.